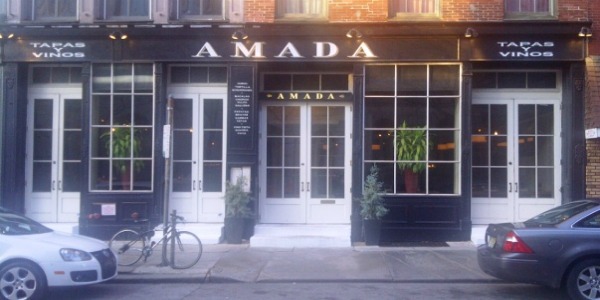 Amada Restaurant - Spanish Restaurants in Philadelphia
'Authentic Spanish Tapas'
Amada is a restaurant in the Old City section of Philadelphia that specializes in Spanish foods. The restaurant is one of  six Jose Garces's restaurants, which is part of the Garces Restaurant Group in Philadelphia.
The Amada Experience & Atmosphere
The Amada is not your typical Spanish restaurant in Philadelphia. Amanda prides itself in serving authentic Spanish tapas which are based on the earthy Mediterranean flavors that founder and executive chef Jose Garces so proudly instills through his passion and expertise within the restaurant.
The Amada has an unique set-up with three rooms to choose from, in addition to the bar. The main dining area is a good place for those that want to hangout with a large number of friends, yet if you are looking for a more intimate setting, you might want to ask for the back dining room.  From speaking to a few, the coolest table has to be the muslin curtain enclosed "stage table", which is not available on Wednesday or Friday.
The menu at Amada changes frequently and they are known for their wide selection of vegetarian foods. Their signature tapas's are your choices between the Spanish Octopus, Garlic Shrimp, or the Tortilla Española. The house specialties are the Lobster Paella or the Whole Roasted Suckling pig which has to be ordered 72 hours in advance.  Just reading about it makes your mouth water.
Feeling thirsty and are a wine connoisseur? The restaurant has approximately 40 different wines, featuring primarily Spanish wines, while also serving some from South America, Portugal, California, Italy and France. Like a good Sangria? Amada serves three different types; a Blanco, a Tinto, and a Temporada style Sangria.
The Amada Restaurant, signifying one of the better Spanish restaurants in Philadelph ia, has great energy throughout the whole establishment with its open kitchen, excellent staff, and wonderful selection of music. For many who have visited Spain, Jose Garces has done an excellent job of replicating all things Spanish when it comes to his food.
Amada Restaurant's Extras 
Private dining room will accommodate up to 24 people.
Private lounge with full bar offers dining for 30-40 people (combine both areas for up to 65 people.
The entire restaurant can be reserved for approximately 150 people. 
A fixed price menu is required for groups of 12 or more .
For all events at Amada, please call (215) 625-2920.
Location
217-219 Chestnut St
Philadelphia, PA 19106
Hours
Monday – Thursday  |  11:30 am – 11:00 pm
Friday & Saturday  |  11:30 am – 1:00 am
Sundays  |  11:30 am – 11:00 pm
Phone
(215) 625-2450
Web Site
Several of the pictures courtesy of the Garces Restaurant Group
View Larger Map
Jeff Belonger has been in the mortgage industry for 19+ years and now wants to do something different. With his experience of blogging and social media, Jeff wants to share all of what Philadelphia has to offer, so he created MyPhillyAlive.com. At MyPhillyAlive, we want to share the excitement that the City of Philadelphia resonates. Sharing the passion within, from the people of Philadelphia. At MyPhillyAlive, we'll be talking about Philadelphia restaurants, fun bars, the city night life, the history of Philadelphia, Philly attractions & events, the arts, sports, and much more. We want people to add their experiences regarding Philadelphia, even if they are from out of town, which can be done on our Facebook fan page as well. www.facebook.com/MyPhillyAlive At the end of the day, we want to be different from the many Philadelphia sites. We want our site to be easy to navigate, while at the same time, we want you to not only find the hot spots, the best things to do in Philadelphia; but those hidden gems within the city. Thanks...
More Posts - Website - Twitter - Facebook - LinkedIn