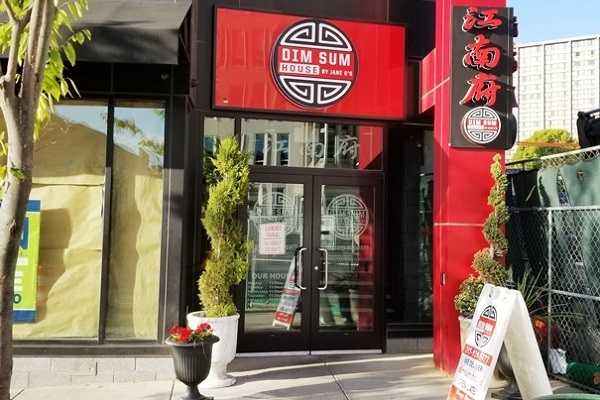 'A Hidden Gem In University City'
Dim Sum House might not look like much when you first approach the building or even when walking up to the second floor, but once upstairs, the inside decor of this place has a modern look and its very nice and clean. It even gets better once you have tried the food.
Located at 40th and Chestnut in University City, this establishment opened on January 11, 2017 by Jane Guo and Jackson Fu. This mother and son duo also own and operate Jane G's Restaurant at 1930 Chestnut Street, which specializes in Authentic Sichuan Cuisine in the Rittenhouse neighborhood.
Dim Sum House Atmosphere & Experience
Dim Sum House, with its décor being modern and sleek, with Asian designs and artworks accenting the room, serves a wonderful selection of Cantonese and Shanghai-inspired dim sum, as well as wonderful dishes from the Jiang Nan region of China. 
You'll find a bar/lounge that seats 15 and the restaurant itself that has two dining rooms that seats a total of 225 people, with some of the tables offering street views.
What is Dim Sum?
Dim Sum literally means "touch the heart" in Chinese and is a dining tradition originating thousands of years ago in small tea houses lining heavily traveled roads. Focusing on small dishes meant for sharing, these small tea houses were meant to provide nourishment and sustenance for travel-weary guests, usually merchants and traders.
The authentic Asian inspired foods are packed with flavor. They serve craft beers, have rotating draft selection, which Yards Philly Pale Ale is the standard beer, and they have a selection of refreshing libations created with local distilleries products which are hand-crafted by their beverage manager, Nickolas Brozek.
Some of the more popular foods found at Dim Sum House are their beef stuffed scallion pancakes, crystal shrimp dumplings, soup dumplings, pork belly with mustard greens and steamed whole fish. From their seafood tank, you can order a live King Crab done two ways.
We had the pleasure of trying several different types of dishes. We had the extra spicy soup dumpling, the Shanghai Wonton soup, beef scallion pancakes, string beans, roast pork buns, beef ho fun and the Peking duck. The soup dumplings here are made with a thicker skin so it won't break the soup out too easily if you try to pick it up. We enjoyed everything that we tried and would recommend Dim Sum House.
Dim Sum House Extras
Pool Table
Serve food until 1 am
Special events during Philly Craft Beer Week, Philly Craft Spirits Week & Chinese New Years
Private rooms for special events (

private room for 20 guests, adjoining private booth that seats up to 30, and a main dining that can fit parties of up to 70)

Offers off-site catering
Dim Sum House
Location
3939 Chestnut St 2nd Floor
Philadelphia, PA 19104
Hours
Monday  |  11:00 am – 10:00 pm
Tuesday – Friday  |  11:30 am – 2:00 am
Saturday – Sunday  |  11:00 am – 2:00 am
Phone
(215) 921-5377
Web Site
All Photos by Jeff Belonger for MyphillyAlive except the seating areas which are courtesy of Dim Sum House
Jeff Belonger has been in the mortgage industry for 19+ years and now wants to do something different. With his experience of blogging and social media, Jeff wants to share all of what Philadelphia has to offer, so he created MyPhillyAlive.com. At MyPhillyAlive, we want to share the excitement that the City of Philadelphia resonates. Sharing the passion within, from the people of Philadelphia. At MyPhillyAlive, we'll be talking about Philadelphia restaurants, fun bars, the city night life, the history of Philadelphia, Philly attractions & events, the arts, sports, and much more. We want people to add their experiences regarding Philadelphia, even if they are from out of town, which can be done on our Facebook fan page as well. www.facebook.com/MyPhillyAlive At the end of the day, we want to be different from the many Philadelphia sites. We want our site to be easy to navigate, while at the same time, we want you to not only find the hot spots, the best things to do in Philadelphia; but those hidden gems within the city. Thanks...
More Posts - Website - Twitter - Facebook - LinkedIn