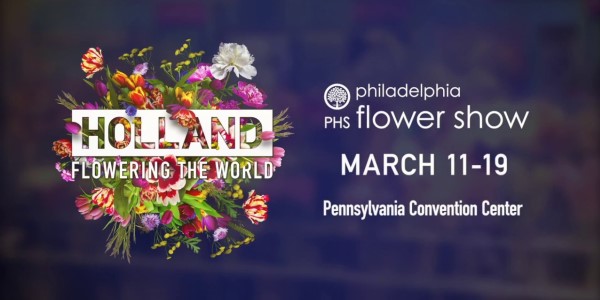 'The World's Largest Indoor Flower Show'
The Philadelphia International Flower Show welcomes you to "Holland: Flowering The World," where guests will be able to celebrate the beauty and ingenuity of Dutch culture, from vivid flower fields to innovative eco-design.
No other country is as well known for its floral industry as the Netherlands, which fills the world with color.
This awesome event will take place at the Pennsylvania Convention Center from March 11 to 19. So bring your creative juices, your cameras, and your walking shoes.
The Philadelphia International Flower Show Experience & Atmosphere
The Philadelphia Flower Show is an annual event, the largest indoor flower show in the world, that will attract more than 260,000 people. The show will transport guests to the rainbow landscapes of tulips, hyacinths and daffodils and the cut-flower and bulb markets that have shaped Dutch history.
As a visitor, you will explore Bridges, windmills, canals and water gardens in a sea of 30,000 flowers — with 6,000 more blooms suspended in a giant floral canopy.
Guests will pass under a brick bridge inspired by the Amsterdam cityscape and adorned with Delft tile patterns, overflowing flower boxes and hanging baskets. The surrounding garden will be planted with cherry trees, sycamores, and drifts of floral color ranging from hot orange to soft pinks, reds, blues and purple accents. Mixed in with thousands of tulips will be hundreds of fritillaria, narcissus, anemones and other blooms.
The result of the 2017 Philadelphia Show will bring visitors many beautiful and scenic backdrops all in one place! Don't miss this marvelous event!
MyPhillyAlive will be giving away tickets to the Flower Show as well. Follow us on our Facebook Page or Twitter for details and updates. Contest Giveaway : Stay tuned for details on March 9! For details, click here. (details will be posted on March 9)
Facebook: MyPhillyAlive
Twitter: MyPhillyAlive - @MyPhillyAlive
The Philadelphia Flower Show's Special Events and Activities
There is more than just the amazing exhibits at the Flower Show. There will be themed nights, activities, and much more.
• Pre-View Party: March 10 ~ Experience the beautiful designs and displays of the Flower Show before it opens to the public. Proceeds from the black-tie fundraiser will benefit the greening initiatives of the Pennsylvania Horticultural Society. There will be Best in Show awards, drinks and food and live music. For info & tickets, click here.
• Butterflies Live: Back by popular demand, the habitat will feature native plants that attract butterflies and encourage pollination. More than 1,000 butterflies, of 20 domestic and exotic species, will be included in this engaging attraction. For more info & tickets, click here.
• Early Morning Tours: Guided early morning tours are led by expert docents and veteran Flower Show enthusiasts. Start your day at the Flower Show hours before the general public listening to fascinating stories about the Show exhibits, design inspiration and challenges, Flower Show history, and more! ~ More info & tickets ~
• Garden Spa: Take a break and experience deep relaxation! Sit in our relaxation station and have an electronic massage, make your own essential oil or potpourri, and sip on champagne and nibble on chocolate while you browse the shop. $20. ~ More Info & Tickets ~
• Fido Friday: March 17 ~ 6 pm to 9 pm – In partnership with PAWS, four -legged friends and their owners are invited to "Fido Friday" on March 17. The event will begin with a "Yappy Hour" from 6 to 7 p.m. at the World Market in the Grand Hall. ~ More Info ~
• Teddy Bear Tea: March 19 ~ 11:45 am to 1 pm – Bring your favorite teddy bear for an afternoon tea party at the Flower Show!  Children's entertainment and a delicious menu of petite sandwiches, pastries, fruit, and an assortment of fine teas are sure to delight!. ~ More Info ~
For more events and activities during the 2017 Philadelphia Flower Show, please click here.
In addition to the major garden displays and special events, the Flower Show hosts world-renowned competitions in horticulture and artistic floral arranging, hundreds of gardening presentations and demonstrations, special events, a mammoth indoor Marketplace, and a city-wide Flower Show Week celebration throughout the Philadelphia region.
Flower Show Updates: Follow hashtag #FlowerShow on Twitter. Twitter handle: @PhilaFlowerShow & The Philadelphia Flower Show on Facebook, Click Here.
History of Philadelphia Flower Show
Philadelphia paved the way in improving the quality of life and creating a sense of community through horticulture when the Pennsylvania Horticultural Society was founded in 1827. Philly being the first horticultural society in America. After that, the nation's first flower show was held in Philadelphia in 1829 which showcased many exotic and native plants from the society members. In 1968, the Pennsylvania Horticultural Society (PHS) become the official producer of the Philadelphia Flower Show.
The flower show brings in a lot of funds from such things as ticket sales, sponsorship contributions, and exhibitors. All the proceeds support the Pennsylvania Horticultural Society and helps fund PHS's outreach programs including Philadelphia Green, the nation's largest and most comprehensive neighborhood greening program. This specific program helps plant street trees, maintaining neighborhood parks, and creating vegetable and flower gardens. Not only is the Philadelphia Flower Show an excellent time, but that it gives back to many communities in one way or another.
Location
Pennsylvania Convention Center
12th and Arch Streets
Philadelphia, PA 19107
Dates
March 11 – 19, 2017
Hours
Saturday  |  March 11  |  11:00 am – 9:00 pm
Sunday  |  March 12  |  8:00 am – 9:00 pm
Monday – Friday  |  March 13 – 17  |  10:00 am – 9:00 pm
Saturday  |  March 18  |  8:00 am – 9:00 pm
Sunday  |  March 19  |  8:00 am – 6:00 pm
Cost
Tickets are available online in advance for $28 thru March 10 ($35 at the door) for adults, $20 ($22 at the door) for students ages 17 – 24 with valid ID and $15 ($17 at the door) for children ages 2-16. There are group & family packages as well. A service fee of $1 per ticket is applied at checkout. Tickets Online  |  Click Here
Flower Show Updates
Follow hashtag #FlowerShow on Twitter. Twitter handle: @PhilaFlowerShow The Philadelphia Flower Show on Facebook, Click Here.
Phone
(215) 988-8899
Web Site
Some pictures courtesy of the Pennsylvania Horticultural Society - Rest by Jeff Belonger of MyPhillyAlive
Jeff Belonger has been in the mortgage industry for 19+ years and now wants to do something different. With his experience of blogging and social media, Jeff wants to share all of what Philadelphia has to offer, so he created MyPhillyAlive.com. At MyPhillyAlive, we want to share the excitement that the City of Philadelphia resonates. Sharing the passion within, from the people of Philadelphia. At MyPhillyAlive, we'll be talking about Philadelphia restaurants, fun bars, the city night life, the history of Philadelphia, Philly attractions & events, the arts, sports, and much more. We want people to add their experiences regarding Philadelphia, even if they are from out of town, which can be done on our Facebook fan page as well. www.facebook.com/MyPhillyAlive At the end of the day, we want to be different from the many Philadelphia sites. We want our site to be easy to navigate, while at the same time, we want you to not only find the hot spots, the best things to do in Philadelphia; but those hidden gems within the city. Thanks...
More Posts - Website - Twitter - Facebook - LinkedIn