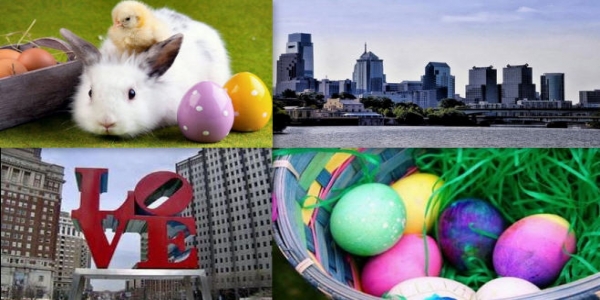 'Family Time During Easter Weekend'
It's Easter Weekend in Philadelphia and the month of April is soon to be upon us.
Easter can mean so many things to us. Spending time with family, religious activities,  and so much more. Not only do we like to showcase the many things to do in Philadelphia, such as Philly Arts, Museums, it's history, but even Easter events for the kids. At MyPhillyAlive, we wish everyone a happy and thankful Easter weekend.
Did you know : Philadelphia was named 1 of the top 10 US travel destinations for 2013. Also named for having the best sandwich in America, #2 in best burgers in the country by Travel + Leisure and in the last 8 months, the city has been recognized for top 10 parks in the world, best cheesesteaks, and #1 in Culture. We can feel that the list will be growing in 2013.
Here at MyPhillyAlive, we like to share these events and attractions with you. Here are a few highlighted events or attractions for this weekend in Philly and some upcoming attractions or events to put on your calendar. Please don't hesitate to stop by here tomorrow for any new updates of what is going on this weekend or during the week.
Things To Do In Philadelphia this Weekend & Week of  ~ March 29 – April 4 ~
Come Back later this afternoon or evening for more things added to the Philly to do list!
Visiting Philadelphia
Are you Visiting Philadelphia? Have you lived in or near the City of Philadelphia, but never ventured out too the many historical sites in Philly? Here is a quick guide for some must see attractions in the City of Brotherly Love.
Are you Visiting Philadelphia and need a good tour company to show you around the City of Philadelphia, the historical sites, and much more. Try the Philadelphia Sightseeing Tours Company~ Philly Sightseeing Company ~ If you feel like walking instead, check out Free and Friendly Tours. Click Here for more info.
Upcoming Events & Attractions in Philadelphia
Philadelphia Phillies Home Opener Tailgating Event with One Crazy Fan ~ April 5 ~ Even if you aren't going to the game, come tailgate with awesome Phillies fans and One Crazy Fan. Please of good food, beer and Phillies excitement. ~ Tickets for One Crazy Fan Phillies Home Opener ~
Drexel University Online to Host Pennsylvania Student Veterans Conference ~ April 6 ~ From 8 am to 5 pm, open to all student veterans across the country, the free conference will include breakout sessions on topics such as career opportunities, strategies for success, and creating an active veterans club on campus. ~ Info on Student Veterans Conference ~ ~ Online Sign Up Form & Details ~
Hurricane Sandy Benefit Exhibition ~
As always, no matter if you are visiting Philadelphia or live in the City of Philadelphia, we hope our list of things to do in Philadelphia helps you out.
If you have stumbled upon something else that we did not mention, please let us know in a comment or in an e-mail. If you are a business or organization that has an event coming up, please contact us. MyPhillyAlive
If you happened to visit any of the things mentioned above, please don't hesitate to leave a comment here or on that article describing what you liked about that event or attraction. As always, we would greatly appreciate any feedback. Thanks, MyPhillyAlive
Philadelphia Weekend Weather for the weekend of March 29 – 31

Friday  |  Mostly Sunny  |  High 54°  | Low 36°

Saturday  |  Sunny |  High 77° | Low 38°

Sunday  |  60% Showers  |  High 56° |  Low 44°
Disclaimer : This blog post is a weekly update of things to do in Philadelphia. Please check the date above, when such article was posted. If an earlier date appears above, just go to this link for current events and attractions in Philadelphia. ~ Click : Things to do in Philadelphia ~
Jeff Belonger has been in the mortgage industry for 19+ years and now wants to do something different. With his experience of blogging and social media, Jeff wants to share all of what Philadelphia has to offer, so he created MyPhillyAlive.com. At MyPhillyAlive, we want to share the excitement that the City of Philadelphia resonates. Sharing the passion within, from the people of Philadelphia. At MyPhillyAlive, we'll be talking about Philadelphia restaurants, fun bars, the city night life, the history of Philadelphia, Philly attractions & events, the arts, sports, and much more. We want people to add their experiences regarding Philadelphia, even if they are from out of town, which can be done on our Facebook fan page as well. www.facebook.com/MyPhillyAlive At the end of the day, we want to be different from the many Philadelphia sites. We want our site to be easy to navigate, while at the same time, we want you to not only find the hot spots, the best things to do in Philadelphia; but those hidden gems within the city. Thanks...
More Posts - Website - Twitter - Facebook - LinkedIn