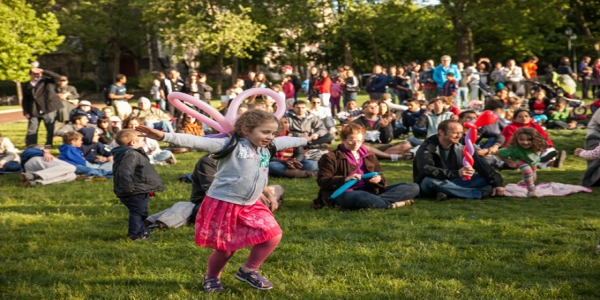 "Relaxing Family Fun in University City' 
Come shake'em, rock'em and roll'em… Every summer, the University City District, the Rotunda and Penn host the 40th Street Summer Series.
A free outdoor music series that is family-friendly, now in its thirteenth year. Each concert is scheduled for a Saturday in the summer from June to September, starting at 6 pm.
These live performances take place on the greenspace at 40th and Walnuts Streets, just behind the Walnut West Free Library. Not only will there be the eclectic sounds of jazz, funk, and more, but this year the schedule will expand to include dance, live theater, music, and a few surprises. 
The mission of the Summer Series is to bring neighborhoods and communities together while educating people on the various types of music and cultures. Showcasing how great Philadelphia is when it comes to diversity and such.
2017 40th Street Summer Series Line-Up
Saturday, May 20  |  The Sun Ra Arkestra with openers RU Bhangra - 

The band will perform their unique combination of big band swing, outer-space jazz, Afro-pageantry, dancing, singing, and chanting. RU Bhangra will open the show, performing traditional Bhangra dancing that combines folk flavor with an entertaining twist.
Saturday, June 17  |  

Brian Sanders' Junk with opener Unidos Bloco

 - 

Brian Sanders' JUNK uses found objects and clever inventions to bridge the gap between dance and physical theater. JUNK strives to produce work that is both artistic and accessible while maintaining a ceaseless desire to try new things. 
Saturday, July 22  |  Dan Blacksberg's Hot Klezmers and the West Philadelphia Orchestra - 

Philadelphia-native and internationally renowned trombonist Dan Blacksberg brings an all-star klezmer band to the Summer Series for an evening of joyous music and dancing. 

Then the West Philadelphia Orchestra (WPO) will bring their mashup blend of Balkan brass traditions, American jazz, and global beats to the stage. With cutting brass, searing woodwinds and some of the tightest beats around, West Philadelphia Orchestra invites audiences to lose themselves in earthy sounds that shake, break and roll.
Saturday, August 19  |  

Worldtown Soundsystem with opener Drum Like a Lady

 - 

Worldtown Soundsystem is a high-energy 8 piece live house music outfit uniting the spheres of electronic dance music culture with global rhythms and soul music. The band boasts a seasoned cast of musicians from around the globe with members from Jamaica, Nigeria, Brazil, Alabama, Vermont and their home in Philadelphia.
Saturday, September 16 |  Banda Magda - 

Led by Greek-born composer, orchestrator, singer and accordionist Magda Giannikou (Kronos Quartet, Louis CK), Banda Magda moves from samba to French chanson, from Greek folk tunes to Colombian cumbia and Afro-Peruvian lando.
2017 40th Street Summer Series
Location
40th & Walnut Streets University City Philadelphia
Dates
Saturdays  |  2017 –  May 20, June 17, July 22, August 19 & September 16
Time
Activities & Free giveaways start at 5:00 pm  |  Performances start at 6:00 pm
Cost
Free
Web Site
Photo Courtesy of  University City District by Ben Tran
Jeff Belonger has been in the mortgage industry for 19+ years and now wants to do something different. With his experience of blogging and social media, Jeff wants to share all of what Philadelphia has to offer, so he created MyPhillyAlive.com. At MyPhillyAlive, we want to share the excitement that the City of Philadelphia resonates. Sharing the passion within, from the people of Philadelphia. At MyPhillyAlive, we'll be talking about Philadelphia restaurants, fun bars, the city night life, the history of Philadelphia, Philly attractions & events, the arts, sports, and much more. We want people to add their experiences regarding Philadelphia, even if they are from out of town, which can be done on our Facebook fan page as well. www.facebook.com/MyPhillyAlive At the end of the day, we want to be different from the many Philadelphia sites. We want our site to be easy to navigate, while at the same time, we want you to not only find the hot spots, the best things to do in Philadelphia; but those hidden gems within the city. Thanks...
More Posts - Website - Twitter - Facebook - LinkedIn