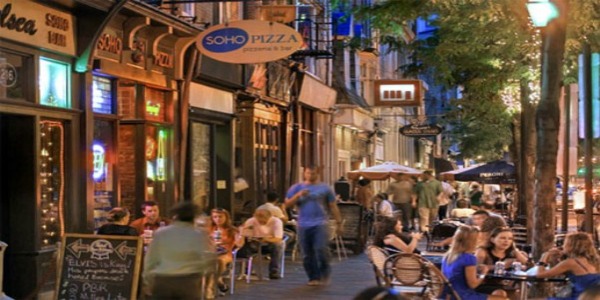 Old City (Olde City) in Philadelphia – Philadelphia Neighborhoods
Old City is a very unique Philadelphia neighborhood in the City of Philadelphia. This is where William Penn and the Quakers first settled. The area is approximately 75 acres, which is a true rectangle that occupies streets West and East between 4th Street and Columbus Blvd and streets North and South between Spring Garden Street and Walnut Street.
Old City boasts one of Philadelphia's more popular nightlife destinations, with many quality restaurants, lounges, bars, art galleries, and historical sites. The neighborhood is even residential, making it a very attractive Philadelphia neighborhood for many Philadelphians looking for an entertaining and cultural city experience.
Old City also goes by Olde City, Old City District, and the Old City Historic District. Because of Old City's historical sites such as Elfreth's Alley and Betsy Ross House, the Old City Historic District was added to the National Register of Historic Places in 1972.
Related Articles About Old City Restaurants & Bars
Bocca
Bleu Martini
Brownies Pub
Buddakan
Cavanaugh's River Deck
City Tavern
Continental
Dolce rRestaurant
Drinker's Tavern
Eulogy Belgian Tavern
Fork
Mac's Tavern
Mad River
Mexican Post
Ristorante Panorama
Rotten Ralph's
Sassafras International Café
Triumph Brewing Company -restaurant/bar
Related Articles About Things To Do in Old City
Comedy Cabaret
Improv Comedy
Penn's Landing
Related Articles About Historic Sites in Old City
Related Articles About Museums in Old City
Elfreth's Alley Museum
Related Articles About Art Galleries in Old City
Artists House Gallery
Muse Gallery
Rosenfeld Gallery
Third Street Gallery
Trust Gallery
Wexler Gallery
View Larger Map
Jeff Belonger has been in the mortgage industry for 19+ years and now wants to do something different. With his experience of blogging and social media, Jeff wants to share all of what Philadelphia has to offer, so he created MyPhillyAlive.com. At MyPhillyAlive, we want to share the excitement that the City of Philadelphia resonates. Sharing the passion within, from the people of Philadelphia. At MyPhillyAlive, we'll be talking about Philadelphia restaurants, fun bars, the city night life, the history of Philadelphia, Philly attractions & events, the arts, sports, and much more. We want people to add their experiences regarding Philadelphia, even if they are from out of town, which can be done on our Facebook fan page as well. www.facebook.com/MyPhillyAlive At the end of the day, we want to be different from the many Philadelphia sites. We want our site to be easy to navigate, while at the same time, we want you to not only find the hot spots, the best things to do in Philadelphia; but those hidden gems within the city. Thanks...
More Posts - Website - Twitter - Facebook - LinkedIn