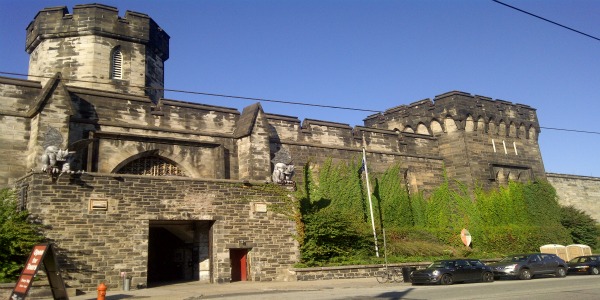 Fairmount & Art Museum Area in Philadelphia – Philadelphia Neighborhoods
"Eastern State Penitentiary"
Fairmount in Philadelphia is a nice quaint section that has become reborn over the years with new comers to Philadelphia moving to this section and the restaurant scene getting more popular.
Fairmount is derived from the noticeable hill that the Philadelphia Museum of Art now sits on and where William Penn once intended to build his house. The Fairmount area is sometimes referred to as the "Art Museum Area," for its proximity to and association with the Art Museum.
The Fairmount neighborhood once consisted of Irish and German immigrants, while Polish and Ukrainian immigrants moved into the neighborhood in the early 20th century, having a significant presence in its northernmost sections of Fairmount. More recently over the years, younger professional families, graduate students and singles, to include many gay and lesbian households, began to move into the neighborhood. This was because of its location adjacent to Center City, the Art Museum, and Fairmount Park.
The neighborhood's Fairmount Avenue contains many diverse restaurants, bars and shops along the street, which seems to be the heart of Fairmount. There are many other restaurants and bars a few streets from Fairmount Avenue, so don't lose sight of this.
Even though the Philadelphia Museum of Art, Boat House Row, the historic Fairmount Water Works, Bartram's Garden, and much more are part of Fairmount Park, all of these places are a stones throw from the Fairmount section of Philadelphia or the Art Museum Area. Kelly Drive parallels the river and winds through scenic Fairmount Park. All of which attract new residents or those looking for a good restaurant or bar, to the Fairmount section of Philadelphia, becoming one of Philadelphia's most desirable neighborhoods.
Related Articles about Restaurants & Bars in Fairmount & Art Museum Area
Bishop's Collar
Bridgid's
Fig's Restaurant
Little Pete's Restaurant
Urban Saloon
Zorba's – Greek Restaurant
Related Articles on things to do in Fairmount & Art Museum Area
Jeff Belonger has been in the mortgage industry for 19+ years and now wants to do something different. With his experience of blogging and social media, Jeff wants to share all of what Philadelphia has to offer, so he created MyPhillyAlive.com. At MyPhillyAlive, we want to share the excitement that the City of Philadelphia resonates. Sharing the passion within, from the people of Philadelphia. At MyPhillyAlive, we'll be talking about Philadelphia restaurants, fun bars, the city night life, the history of Philadelphia, Philly attractions & events, the arts, sports, and much more. We want people to add their experiences regarding Philadelphia, even if they are from out of town, which can be done on our Facebook fan page as well. www.facebook.com/MyPhillyAlive At the end of the day, we want to be different from the many Philadelphia sites. We want our site to be easy to navigate, while at the same time, we want you to not only find the hot spots, the best things to do in Philadelphia; but those hidden gems within the city. Thanks...
More Posts - Website - Twitter - Facebook - LinkedIn