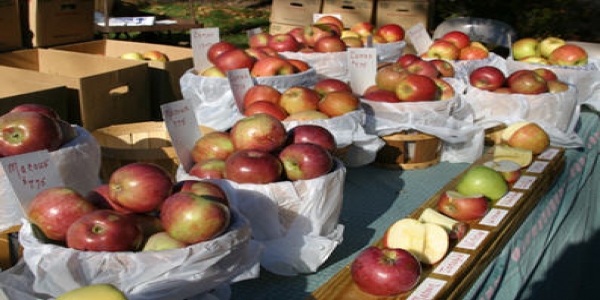 'Scrumptious Apple Treats' 
It's raining apples at the Peddler's Village Apple Festival of 2017.
Come out November 4 and 5 with the family and enjoy the many apple treats that you'll be able to find at this weekends festival. Such treats as apple cider, apple fritters, apple pies and cakes, country apple butter and everyone's favorite — apple dumplings! Isn't this making you hungry!
The festival has more than just apples. There will be live entertainment and juried artisans selling their wares and demonstrating their skills at the Street Road Green Artisan area. There will also be kids activities, such as a train ride and more!
Feeling up to the challenge, there is even an apple pie-eating contest both days, adding to this traditional autumn celebration. The Apple Pie Eating Contest is held at 3 pm, both Saturday and Sunday, in the following age categories: 10 and under, 11-14 and 15 and up.
Want more apples for your own eating and cooking pleasures at home, take home a bushel of fresh apples from the orchard.
So come on out to this weekend's Apple Festival at Peddler's Village and enjoy these awesome delicious treats while having fun with family and friends. Just don't overdo it with the caramel dipped apples, because I know I would. Enjoy….
The event is rain or shine!
Peddler's Village Apple Festival 2017
Location
Peddler's Village
Routes 202 & 263
Lahaska, PA 18931
Date & Time
November 4 & 5, 2017  |  Saturday & Sunday
Time
10:00 am – 6:00 pm (both days)
Cost
Free admission and parking
Web Site
photos courtesy of Peddler's Village
View Larger Map
Jeff Belonger has been in the mortgage industry for 19+ years and now wants to do something different. With his experience of blogging and social media, Jeff wants to share all of what Philadelphia has to offer, so he created MyPhillyAlive.com. At MyPhillyAlive, we want to share the excitement that the City of Philadelphia resonates. Sharing the passion within, from the people of Philadelphia. At MyPhillyAlive, we'll be talking about Philadelphia restaurants, fun bars, the city night life, the history of Philadelphia, Philly attractions & events, the arts, sports, and much more. We want people to add their experiences regarding Philadelphia, even if they are from out of town, which can be done on our Facebook fan page as well. www.facebook.com/MyPhillyAlive At the end of the day, we want to be different from the many Philadelphia sites. We want our site to be easy to navigate, while at the same time, we want you to not only find the hot spots, the best things to do in Philadelphia; but those hidden gems within the city. Thanks...
More Posts - Website - Twitter - Facebook - LinkedIn