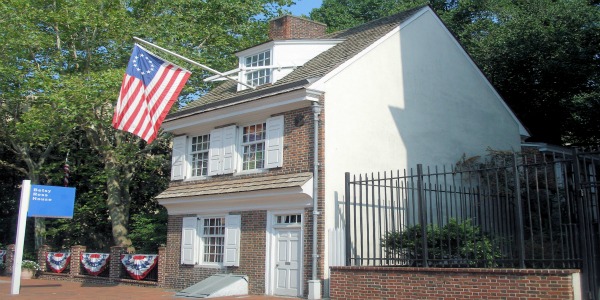 'The American Flag – Freedom, Liberty, & Pride'
The Betsy Ross House, one of our more treasured historic sites, is surrounded by a lot of Philadelphia History. The house located in Old City, is not far from historic icons and historic sites such as the Liberty Bell and Independence Hall.
The Main Question
Did Betsy Ross make the American Flag. There are historians on both side of the fence, but there are affidavits and evidence that source the fact that Betsy Ross did indeed make the American Flag. < click here >
In April 2009, Betsy Ross was officially credited for making the first stars and stripes flag by the Pennsylvania Historical and Museum Commission. There is a historic marker in front of her house now that recognizes this great accomplishment in American History and is a big part of the History of Philadelphia.
History of the Betsy Ross House
The front of the house was believed to have been built around 1740, while the rear of the house was added 10 or 20 years later. Over the years, there has been restoration of the building and some changes of the original building. The house itself has served as both a residence and a business throughout the years to different shopkeepers and artisans.
Betsy Ross worked in this house as a furniture upholsterer and was believed to have occupied the house from 1773 to 1785. She had three husbands throughout history, two dying because of the war. Ross is buried beneath the giant elm and sycamore trees that shade the courtyard.
Location
239 Arch Street
Philadelphia, PA 19106
Hours
December through February  |  Tuesday – Sunday  |  10:00 am – 5:00 pm
Closed Mondays through February
March through November 2012  |  Monday – Sunday  |  10:00 am – 5:00 pm  |  daily
**All hours are subject to change without notice**
Phone
(215) 686-1252
Web Site
Related Articles about the History of Philadelphia
View Larger Map
Jeff Belonger has been in the mortgage industry for 19+ years and now wants to do something different. With his experience of blogging and social media, Jeff wants to share all of what Philadelphia has to offer, so he created MyPhillyAlive.com. At MyPhillyAlive, we want to share the excitement that the City of Philadelphia resonates. Sharing the passion within, from the people of Philadelphia. At MyPhillyAlive, we'll be talking about Philadelphia restaurants, fun bars, the city night life, the history of Philadelphia, Philly attractions & events, the arts, sports, and much more. We want people to add their experiences regarding Philadelphia, even if they are from out of town, which can be done on our Facebook fan page as well. www.facebook.com/MyPhillyAlive At the end of the day, we want to be different from the many Philadelphia sites. We want our site to be easy to navigate, while at the same time, we want you to not only find the hot spots, the best things to do in Philadelphia; but those hidden gems within the city. Thanks...
More Posts - Website - Twitter - Facebook - LinkedIn