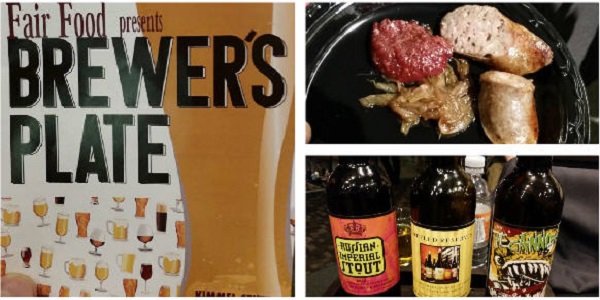 'Where Food Meets Beer'
The Brewer's Plate annual food and beer event is the talk of the town each year! The 13th annual event is held at the Kimmel Center on March 5, emphasizing to buy fresh and buy local. This will be your chance to savor delightful food that is paired with perfected brews, wine and cocktails from our region's outstanding chefs, farmers, food artisans, brewers, distillers, and winemakers.
Brewer's Plate benefits Fair Food, a non-profit that has been uniting local farmers with businesses and consumers for over a decade. They promote the importance of family farms and create a year-round marketplace for fresh, local and humane food products in the Greater Philadelphia region.
There will be 33 eateries and restaurants with 39 breweries and distilleries on hand. For the 2017 Brewer's Plate Participants, Click Here. Back by popular demand! 
VIP Plus - an exclusive pre-festival beer-driven culinary extravaganza. Victory Brewing Company's founder, Bill Covaleski, and visiting guest brewer, Zach Bodah of Allagash Brewing Company of Portland, Maine will collaborate with chefs from the Garces Group to create gastronomic fireworks.To celebrate the perfect union of beer and food, guests will be dazzled by the food-pairing skills of these two brewers who will join forces with the chefs of Village Whiskey, the Olde Bar, and Garces Events in the spectacular Hamilton Garden, perched atop the Perelman Theater at the Kimmel Center. The respective brewers will be judged on three categories of pairings – seafood, meat, and sweets – to the delight of the VIP Plus ticket holders who will vote for their favorite. Only 150 tickets will be available at $130! For VIP Plus tix , Click Here
The much anticipated Brewer's Plate is always on people's minds before the new year has begun and many of the area's industry types call it one of their favorite events of the year! This is one event you don't want to miss! For Brewer's Plate tickets, Click Here. Info on Brewer's Plate Tickets, Click Here.
Brewer's Plate Social Media
Twitter:
@fairfoodstand @rollingbarrel @kimmelcenter
Hashtags: #BP13 #BP2017 #LoveLocal #BrewersPlate Facebook: For Brewer's Plate on Facebook, Click Here.
Brewer's Plate
Location
Kimmel Center 300 South Broad St Philadelphia, PA 19102
Date
March 5, 2017
Time
VIP Plus 4:00 pm  |  VIP 5:00 pm  |  General Admission 6:00 pm
Cost
General Admission tickets:
$67
$77 – After January 18, 2017
VIP tickets (only 350 tickets available!):
$ 90
$100 - After January 18, 2017
VIP Plus (only 150 tickets available):
For Brewer's Plate tickets, Click Here. Info on Brewer's Plate Tickets, Click Here.
Web Site
Photos by Jeff Belonger for MyPhillyAlive
Jeff Belonger has been in the mortgage industry for 19+ years and now wants to do something different. With his experience of blogging and social media, Jeff wants to share all of what Philadelphia has to offer, so he created MyPhillyAlive.com. At MyPhillyAlive, we want to share the excitement that the City of Philadelphia resonates. Sharing the passion within, from the people of Philadelphia. At MyPhillyAlive, we'll be talking about Philadelphia restaurants, fun bars, the city night life, the history of Philadelphia, Philly attractions & events, the arts, sports, and much more. We want people to add their experiences regarding Philadelphia, even if they are from out of town, which can be done on our Facebook fan page as well. www.facebook.com/MyPhillyAlive At the end of the day, we want to be different from the many Philadelphia sites. We want our site to be easy to navigate, while at the same time, we want you to not only find the hot spots, the best things to do in Philadelphia; but those hidden gems within the city. Thanks...
More Posts - Website - Twitter - Facebook - LinkedIn