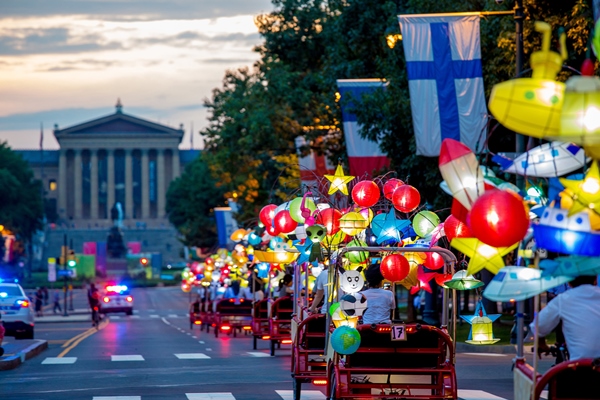 'Lighting Up The Benjamin Franklin Parkway With Interactive Art'
Imagine riding down Benjamin Franklin Parkway in a pedicab (a small pedal-operated vehicle, serving as a taxi in some countries)!
Here is your chance thanks to Cai Guo-Qiang: Fireflies, a new interactive artwork which is from September 15 to October 8.
The Atmosphere and Experience Of Cai Guo-Qiang: Fireflies
Guests will find 27 luminous, kinetic sculptures in the form of free pedicabs traveling along the Parkway from Iroquois Park to Sister Cities Park which will be displaying a combined total of 900 colorful lanterns. 
Participants will be able to ride two-at-a-time inside the moving sculptures for free! Tickets can be obtained either via walk-up or online reservation.
The exhibit is created by artist Cai Guo-Qiang and commissioned by the Association for Public Art with Fung Collaboratives and led by curator Lance Fung, Cai Guo-Qiang: Fireflies. The artwork, which is inspired by the traditional lantern festivals of the artist's childhood, the public piece is Cai Guo-Qiang's largest U.S. work of the past decade.
Opening Celebration September 14
A free public celebration kicks off Fireflies on Thursday, September 14 from 6:30 pm to 9:30 pm, featuring a one-time-only public performance directed by Cai Guo-Qiang.
The artist will orchestrate a dream-like light and movement performance with the Fireflies pedicabs, creating a luminous choreography on the Parkway. ~ Details ~
Tickets
One ticket gets you a one-way ride for two people from Iroquois Park (24th Street and Pennsylvania Avenue, across from Eakins Oval) to Sister Cities Park (18th Street and the Benjamin Franklin Parkway at Logan Square) or vice versa. 
Each ride is one-and-a-half miles and will take 15 to 20 minutes. Reservations are available every 30 minutes Thursdays through Sundays from 6 pm to 10 pm. Tickets can be obtained either via walk-up or online reservation.
UPDATE October 1, 2017

 
*WALK-UPS ARE WELCOME, even when reservations are full. Also check back at a later date in case other people cancel. ~ online reservation ~
Location
Start: Iroquois Park, 552 North 24th Street  |  End: Sister Cities Park, 210 N. 18th Street
Dates
September 15 – October 8, 2017
Times
Thursdays through Sundays  |  6:00 pm – 10:00 pm
Cost
FREE  |  Tickets Required  |  Click Here
Web Site
Photos Courtesy of Association for Public Art: Photo by Jeff Fusco Photography
Jeff Belonger has been in the mortgage industry for 19+ years and now wants to do something different. With his experience of blogging and social media, Jeff wants to share all of what Philadelphia has to offer, so he created MyPhillyAlive.com. At MyPhillyAlive, we want to share the excitement that the City of Philadelphia resonates. Sharing the passion within, from the people of Philadelphia. At MyPhillyAlive, we'll be talking about Philadelphia restaurants, fun bars, the city night life, the history of Philadelphia, Philly attractions & events, the arts, sports, and much more. We want people to add their experiences regarding Philadelphia, even if they are from out of town, which can be done on our Facebook fan page as well. www.facebook.com/MyPhillyAlive At the end of the day, we want to be different from the many Philadelphia sites. We want our site to be easy to navigate, while at the same time, we want you to not only find the hot spots, the best things to do in Philadelphia; but those hidden gems within the city. Thanks...
More Posts - Website - Twitter - Facebook - LinkedIn