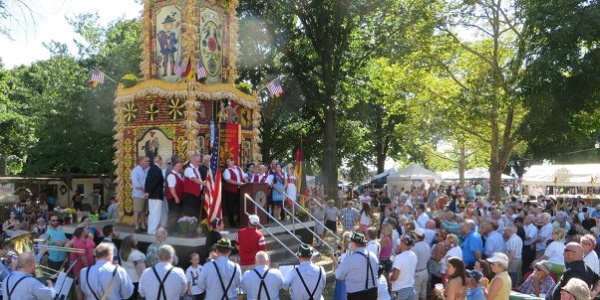 'Enjoying Philadelphia Region's Oldest German Festival'
Cannstatter Volksfest German Festival, held every year since 1873, is a Labor Day Weekend tradition that you will not want to miss! The 145th celebration takes place September 2 to 4.
Visitors will enjoy tasty authentic German food such as Bratwurst, Leberkaese, Schnitzel, Maultaschen and Kassler Rippchen. Every German meal needs a good German beer! There will also be American beers and wines as well.
For those who don't find German food appealing, you'll be able to find American staples such as burgers, dogs, fries, grilled chicken and potato pancakes.
There will be non-stop live musical entertainment from bands playing German and American tunes. Fans of Lederhosen and Dirndls will love the traditional folk dance performances.
This German festival is a family-friendly environment that will have plenty of exciting rides for kids of all ages. Over 30 vendors offer a wide range of locally sourced and imported German crafts, authentic clothing and gifts.
Must See! The Cannstatter's iconic 3-story tall "fruit column" will once again be lovingly decorated with real fruits and vegetables. The column, which celebrates the bounty of the year, takes over a week to build by countless volunteers and is always an amazing sight to behold. The tradition started in Germany in 1818 and was brought to America by club founders such as Godfrey Keebler (Keebler Cookies) and Christian Schmidt (Schmidt Brewery). We proudly continue the tradition today.
The Volksfest is the primary fundraiser for the Cannstatter Volksfest Verein. All proceeds from the event benefit the club and especially the wide range of local organizations, charities and causes that the club supports.
Location
9130 Academy Road
Philadelphia, PA 
Date
September 2 – 4, 2017
Time
Saturday Noon – 10 pm  |  Sunday Noon – 10 pm  |  Monday Noon – 8 pm
Cost
Admission: $6 One-Day Pass  |  $9 Two-Day Pass  |  $11 Three-Day Pass
Children under 12 are free
Pay-As-You-Go for food and beer
Web Site
Photo Courtesy of Cannstatter Volksfest Verein
Jeff Belonger has been in the mortgage industry for 19+ years and now wants to do something different. With his experience of blogging and social media, Jeff wants to share all of what Philadelphia has to offer, so he created MyPhillyAlive.com. At MyPhillyAlive, we want to share the excitement that the City of Philadelphia resonates. Sharing the passion within, from the people of Philadelphia. At MyPhillyAlive, we'll be talking about Philadelphia restaurants, fun bars, the city night life, the history of Philadelphia, Philly attractions & events, the arts, sports, and much more. We want people to add their experiences regarding Philadelphia, even if they are from out of town, which can be done on our Facebook fan page as well. www.facebook.com/MyPhillyAlive At the end of the day, we want to be different from the many Philadelphia sites. We want our site to be easy to navigate, while at the same time, we want you to not only find the hot spots, the best things to do in Philadelphia; but those hidden gems within the city. Thanks...
More Posts - Website - Twitter - Facebook - LinkedIn