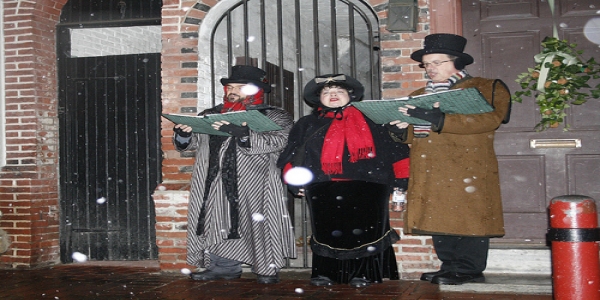 'A Fun Festive Holiday Event – Deck the Alley'
Who loves Holiday traditions! Come experience this special annual holiday tradition, Deck the Alley on Saturday, December 2, at Elfreth's Alley in Historic Philadelphia located in Old City.
Elfreth's Alley is the nation's oldest continuously inhabited street since 1702. The 32 houses there today were built between 1720s and 1830s and the alley is a National Historic Landmark District.  Numbers 124 and 126 are open to the public year-round as a museum.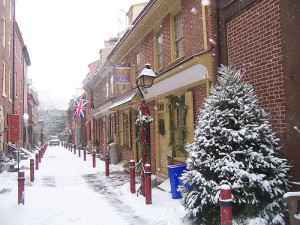 This wonderful event, headlined as a Colonial Christmas, has many surprises lined up and it's a great way to kick-off your holiday season. Elfreth's Alley residents decorate their homes in the holiday spirit and are kind enough to open their houses to the public, allowing you to see these historic homes.
You'll get to experience tasty baked goods, cider, Colonial carolers in the street, story telling and maybe a surprise visit by Benjamin Franklin himself. There will also be colonial artisans, and the chance to sing along with holiday carols from the 18th century.
The holiday event will also feature a special appearance by colonial Pennsylvania's own "cranky Santa" – Belsnickel.
The Museum gift-shop will be open and  stocked with outstanding holiday gifts for your shopping pleasure. All proceeds from this event support the education and preservation programs of the Elfreth's Alley Museum.
If you want to continue your holiday experience in Philadelphia, take a carriage ride through Society Hill or parts of Old City, exploring the history of this wonderful city and its old historic homes.
NEW THIS YEAR 2017 
Making Christmas a Pop-Up exhibit focused on the history of Christmas in America from the 18th to the 19th century and the story of how holiday traditions were transformed by the impact of our German immigrants. Visitors to this exhibit will experience this transformation through the stories of a variety of iconic areas including; the Christmas tree, holiday treats, Santa Claus, and the impact of retail stores.  This exhibit will be open and included in your normal Deck admission!
Location
126 Elfreth's Alley
Philadelphia, PA 19106
Dates & Times
December 2, 2017  |  3:00 pm – 7:00 pm
Cost
Phone for Museum
(215) 574-0560
Web Site
Both photos courtesy of Elfreth's Alley
Jeff Belonger has been in the mortgage industry for 19+ years and now wants to do something different. With his experience of blogging and social media, Jeff wants to share all of what Philadelphia has to offer, so he created MyPhillyAlive.com. At MyPhillyAlive, we want to share the excitement that the City of Philadelphia resonates. Sharing the passion within, from the people of Philadelphia. At MyPhillyAlive, we'll be talking about Philadelphia restaurants, fun bars, the city night life, the history of Philadelphia, Philly attractions & events, the arts, sports, and much more. We want people to add their experiences regarding Philadelphia, even if they are from out of town, which can be done on our Facebook fan page as well. www.facebook.com/MyPhillyAlive At the end of the day, we want to be different from the many Philadelphia sites. We want our site to be easy to navigate, while at the same time, we want you to not only find the hot spots, the best things to do in Philadelphia; but those hidden gems within the city. Thanks...
More Posts - Website - Twitter - Facebook - LinkedIn