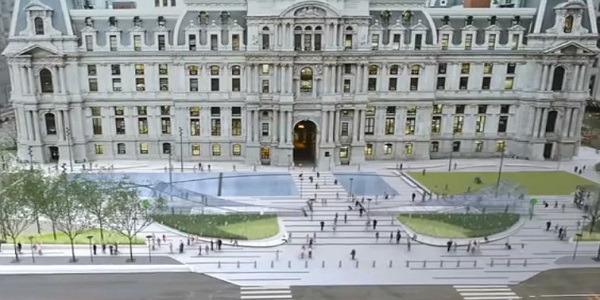 A

 Central Gathering Place
The anticipated opening of Dilworth Park, aka Dilworth Plaza, is finally here. The ribbon cutting ceremony will be on Thursday, September 4 at 11:00 am. The ribbon cutting will be followed by an all-day community arts and culture festival featuring performances and talent from neighborhoods across the city. There will be fun activities as well on both September 5 and 6.  
This new addition, reestablishing William Penn's original Center Square as a gathering place for all Philadelphians, is a welcoming public green space on the west side of the city's historic City Hall. The new park will link the Avenue of the Arts with the Benjamin Franklin Parkway and connect the office district with Market East destinations. 
Features of Dilworth Park include an ice skating rink, 11,600-square-foot computer-programmable fountain fed with recycled rainwater, an upscale café called Rosa Blanca operated by Chef Jose Garces, well-lit access to subways, four tree groves with moveable chairs and table, benches, flower beds and open space throughout, some of which will lead you to the doorsteps of City Hall.
In addition to all of the new activity at the park, new elevators will make transit lines more accessible and new stairs, sheltered by clear glass headhouses, will reach down from the surface level to the transit hub below, a system that transports 305,000 passengers through Center City each day. This will turn Dilworth Park into the primary Center City transit gateway to the Sports District, to Temple University's campuses, University City, and the balance of Philadelphia. There are two LCD panels that will display real-time information for five trolley routes servicing University City and West Philadelphia.
Construction began in January 2012 and because of five weeks of severe winter weather, the surface of the park will be 85%-90% complete on opening day. The remaining portion, including the lawn and walkways to South Penn Square, are scheduled to be finished between mid- and late October.
On Friday, September 5, enjoy Picnic in the Park from 11 am – 7 pm. Enjoy picnic-style lunches that will be available for sale and live music will enliven the park. Sips in the Park will begin at 5:00 pm and continue until 7:00 pm, with more live music and happy-hour drink specials.
On Saturday, September 6 from 11 am to 4 pm, enjoy family-friendly activities including music, storytelling, games, and more. 
Location
City Hall
15th & Market Streets
Philadelphia, PA
Date
September 4, 2014  |  Ribbon Cutting Ceremony with activities  |  11 am
September 5, 2014  |  Picnic in the Park  |  11 am – 7 pm
September 6, 2014  |  Playtime in the Park  |  11 am – 4 pm
Cost
FREE
Web Site
Renderings of a renovated Dilworth Plaza by KieranTimberlake and Olin
Jeff Belonger has been in the mortgage industry for 19+ years and now wants to do something different. With his experience of blogging and social media, Jeff wants to share all of what Philadelphia has to offer, so he created MyPhillyAlive.com. At MyPhillyAlive, we want to share the excitement that the City of Philadelphia resonates. Sharing the passion within, from the people of Philadelphia. At MyPhillyAlive, we'll be talking about Philadelphia restaurants, fun bars, the city night life, the history of Philadelphia, Philly attractions & events, the arts, sports, and much more. We want people to add their experiences regarding Philadelphia, even if they are from out of town, which can be done on our Facebook fan page as well. www.facebook.com/MyPhillyAlive At the end of the day, we want to be different from the many Philadelphia sites. We want our site to be easy to navigate, while at the same time, we want you to not only find the hot spots, the best things to do in Philadelphia; but those hidden gems within the city. Thanks...
More Posts - Website - Twitter - Facebook - LinkedIn