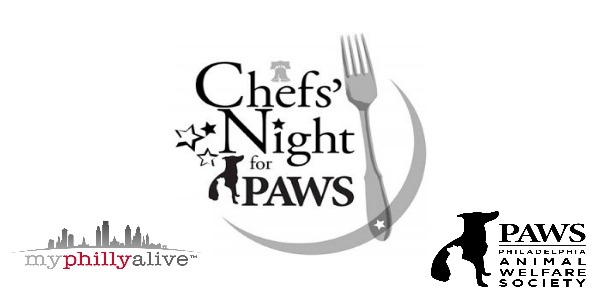 'Chefs, Restaurants & Neighborhoods Coming Together To Help A Good Cause'
Food lovers can come together for this one-of-a-kind opportunity, Chefs' Night for PAWS, to experience the city's best restaurants and bars, neighborhood by neighborhood, under one roof.
Dozens of local restaurants and bars will join together at Skybox (2424 E. York Street) for Chefs' Night for PAWS on Monday, October 2, 2017 from 6 pm to 10 pm.
Participating chefs will be grouped by location, with replicas of the icons that make their areas distinct and video to bring their neighborhood to life. This allows guests to take a visual tour while they enjoy the flavors and meet the culinary stars who gives each area its unique personality.
VIP ticket holders will enjoy a preview hour for first access to the main event and a chance to interact with participating chefs, an intimate VIP lounge where food being served in the main event space will be butler-served and personally presented by noted chefs, and admission to the Chefs' After Party.
Guests can choose from four different ticket options: General Admission $175; General Admission (Pair) $300; VIP Admission $250; and VIP Admission (Pair): $450. . Get Tickets ~ You can get your tickets at the door as well!
Featured Neighborhoods Include:
Midtown
Passyunk Square
Rittenhouse
Old City
Fishtown
Fairmount
Participating Restaurants:
Panorama
Hugo's Frog Bar & Chop House
Davio's
Bru Craft & Wurst
Dim Sum House
Vedge
Lacroix
Del Friscos
JJ Bootleggers
NOORD
OPA
El Vez
Cuba Libre
FOND
Will BYOB
And many more
All proceeds support PAWS' efforts to save homeless pets and prevent others from entering shelters in the first place. PAWS is 100% donor-funded, so its ability to save and serve Philadelphia's most vulnerable pets depends entirely on the generosity of its supporters.
Location
Skybox Event Center
2424 York Street #231
Philadelphia, PA 19125
Date
October 2, 2017
Time
6:00 pm – 10:00 pm
Cost
General Admission $175; General Admission (Pair) $300; VIP Admission $250; and VIP Admission (Pair): $450  |  Get Tickets
You can get your tickets at the door as well!
Web Site
Jeff Belonger has been in the mortgage industry for 19+ years and now wants to do something different. With his experience of blogging and social media, Jeff wants to share all of what Philadelphia has to offer, so he created MyPhillyAlive.com. At MyPhillyAlive, we want to share the excitement that the City of Philadelphia resonates. Sharing the passion within, from the people of Philadelphia. At MyPhillyAlive, we'll be talking about Philadelphia restaurants, fun bars, the city night life, the history of Philadelphia, Philly attractions & events, the arts, sports, and much more. We want people to add their experiences regarding Philadelphia, even if they are from out of town, which can be done on our Facebook fan page as well. www.facebook.com/MyPhillyAlive At the end of the day, we want to be different from the many Philadelphia sites. We want our site to be easy to navigate, while at the same time, we want you to not only find the hot spots, the best things to do in Philadelphia; but those hidden gems within the city. Thanks...
More Posts - Website - Twitter - Facebook - LinkedIn