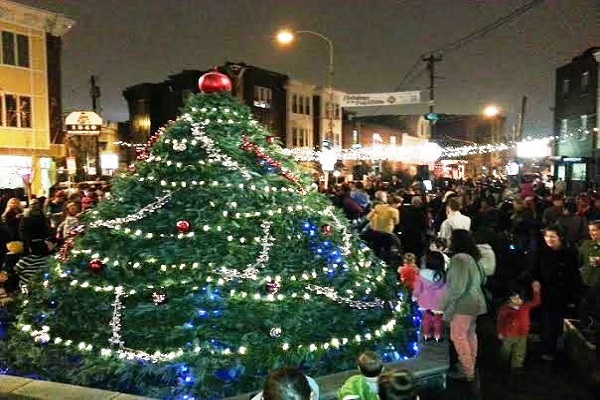 'Holiday Fun in South Philly'
The East Passyunk Annual Tree Lighting event on Thursday, November 30, is a festive time for all and not one to be missed!
The free celebration starts at 5 pm at the corner of East Passyunk Ave and 11th Street and will include live performances, wonderful treats by local businesses and other surprises.
The event will include carolers from the Alphabet Academy, music by students from Andrew Jackson School, a visit from Santa Claus and guests will enjoy holiday sweets from the Avenue. Listen to the Joe King Trio playing holiday tunes along the Avenue as well.
The tree lighting itself will take place approximately between 5:25 pm to 5:35 pm.

The Avenue is asking if you can bring an unwrapped toy for a child in need! There will be a place near the tree itself to drop your toy off. And shops will be open until 9 pm to get that extra holiday shopping done. 
.
2017 East Passyunk Ave Tree Lighting Celebration
Location
The Singing Fountain
East Passyunk Ave & 11th St
East Passunk Neighborhood
Date
Thursday, November 30, 2017
Time
5:00 pm – 7:00 pm
Cost
FREE
Web Site
East Passyunk Ave Tree Lighting
Jeff Belonger has been in the mortgage industry for 19+ years and now wants to do something different. With his experience of blogging and social media, Jeff wants to share all of what Philadelphia has to offer, so he created MyPhillyAlive.com. At MyPhillyAlive, we want to share the excitement that the City of Philadelphia resonates. Sharing the passion within, from the people of Philadelphia. At MyPhillyAlive, we'll be talking about Philadelphia restaurants, fun bars, the city night life, the history of Philadelphia, Philly attractions & events, the arts, sports, and much more. We want people to add their experiences regarding Philadelphia, even if they are from out of town, which can be done on our Facebook fan page as well. www.facebook.com/MyPhillyAlive At the end of the day, we want to be different from the many Philadelphia sites. We want our site to be easy to navigate, while at the same time, we want you to not only find the hot spots, the best things to do in Philadelphia; but those hidden gems within the city. Thanks...
More Posts - Website - Twitter - Facebook - LinkedIn