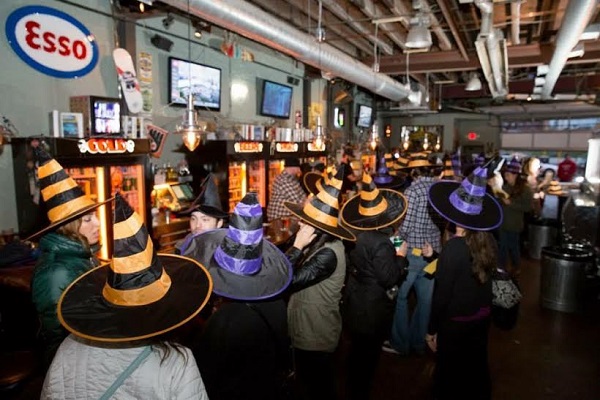 'Witches, Get Your Beer On!'
Calling all witches!
It's that time of year. Halloween, pumpkin beers, witches, sorcerers and the 8th Annual East Passyunk Ave Witch Craft Beer Crawl. You can wear your pointed hats and bring out your flying broomsticks on Wednesday, October 25, from 5:30 pm to 9:30 pm.
This year's crawl will kick off with registration at Garage (9th and Wharton Streets) from 5:30 pm to 7:30 pm. Once you are registered. crawlers are free to hit the bars and beers of their choice. Victory and Troegs are teaming up to bring you $4 beers at every stop!
It will cost you $6.66 to register, which each witch will receive a witches hat and a Witch Craft Stamp Card. Attendees can fill the card for the chance to win $325 in gift certificates to participating bars and restaurants. Crawlers will collect stamps by purchasing $4 craft beers or any other food and beverage items with a minimum of five stamps needed to enter.
Witch Craft Stamp Cards must be returned to Adobe Café (1919 East Passyunk Avenue) by 9:30 pm., and each stamp over five is another chance to win, with a maximum of two stamps per location.
You must be 21 & over!
$4 Witch CRAFT Beer Crawl Selections:
* Adobe
* Bing Bing Dim Sum
* Birra
* The Bottle Shop
* Cantina los Caballitos
* Garage
* ITV
* Lucky 13
* Manatawny Still Works
* Noir
* Plenty Cafe
* Pistolas Del Sur
* Pub On Passyunk East (POPE)
* Ray's Happy Birthday Bar
* South Philly Bar & Grill
* Stateside
* Stogie Joes
They'll also be additional raffle prizes including gift certificates to participating bars and restaurants and prizes from Victory and Troegs.  
Everyone have a spooky good old time and don't drink too many potions.
East Passyunk Ave Witch Craft Beer Crawl
Location
Garage  |  Registration from 5:30 pm to 7:30 pm
9th & Wharton Streets 
Date
October 25, 2017
Time
5:30 pm – 9:30 pm  |  Costume contest will be held at Adobe Café, starting at 9:30 pm.
Cost
$6.66  (gets you a witch hat, Witch CRAFT Stamp Card & beers for $4  |  Get tickets online, click here  |  Can also be bought at the door
Web Site
Photo Courtesy of East Passyunk Avenue Business Improvement District
Jeff Belonger has been in the mortgage industry for 19+ years and now wants to do something different. With his experience of blogging and social media, Jeff wants to share all of what Philadelphia has to offer, so he created MyPhillyAlive.com. At MyPhillyAlive, we want to share the excitement that the City of Philadelphia resonates. Sharing the passion within, from the people of Philadelphia. At MyPhillyAlive, we'll be talking about Philadelphia restaurants, fun bars, the city night life, the history of Philadelphia, Philly attractions & events, the arts, sports, and much more. We want people to add their experiences regarding Philadelphia, even if they are from out of town, which can be done on our Facebook fan page as well. www.facebook.com/MyPhillyAlive At the end of the day, we want to be different from the many Philadelphia sites. We want our site to be easy to navigate, while at the same time, we want you to not only find the hot spots, the best things to do in Philadelphia; but those hidden gems within the city. Thanks...
More Posts - Website - Twitter - Facebook - LinkedIn