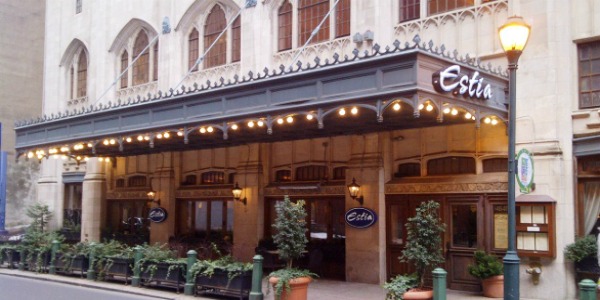 Estia Restaurant – Greek Restaurants in Philadelphia
 "Authentic Greek Cuisine without being in Greece"
Estia is a Greek-Mediterranean Restaurant  located in the Philadelphia theatre district. This stunning restaurant specializes in whole grilled fish which are flown in from the Greek Islands, Portugal, and other Mediterranean areas.
The Estia Restaurant Experience & Atmosphere
Estia is very welcoming, warm, and inviting when first walking into the restaurant. Not only are you greeted by very friendly hostesses, but for the fact that you don't feel like you are in Philadelphia. Could you be in Greece? Just maybe.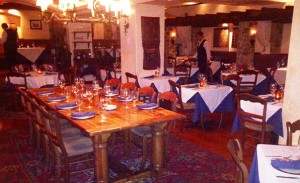 Estia wants you to feel like you are in a Greek home. They use materials such as hand-chiseled Jerusalem limestone floors, hand woven rugs, have vaulted ceilings, antiqued stucco walls, wood plank floors and exposed wood beams to evoke the traditional atmosphere. Some of the dining areas have arched entrance-ways that feature large rustic farm tables, dark wood chairs with white cushions and dining nooks with upholstered banquettes.
The menu has assorted Greek olives, traditional Greek salads, homemade breads, classic Greek dishes, charcoal-broiled Mediterranean octopus, grilled calamari, charcoal-broiled fresh Greek sardines and an array of authentic desserts and Greek coffee. As a guest, not only do you have an excellent selection of foods to choose from, but that can watch chefs cook your fish to perfection over a charcoal grill in the sparkling open kitchen.
Estia Restaurant in Philadelphia could be defined by someone in a short sentence as, "An upscale restaurant that has a romantic atmosphere and is charming with fine cuisine." Explore the Greek-Mediterranean side of Philadelphia at this fine restaurant, Estia.
Estia Restaurant Extras
Theater menu  |  If you have missed Restaurant Week in Philadelphia, you can try their theater menu for $30.  |  Click Here
Two Course Express Lunch  |  $17  | Click Here
Three private dinning areas for parties, business meetings, events and more. One of the areas that displays wine and has wine barrels on the wall, can accommodate up to 16 people
Happy Hour  |  4:00 pm – 6:00 pm  |  Complimentary Hors D'oeuvres
Estia features live Greek music every Friday and Saturday night  |  7:00 pm – 11:00 pm
Sunday Brunch – There is live Jazz during Sunday brunch from noon – 3:00 pm.
Location
1405 – 07 Locust Street
Philadelphia, PA 19102
Hours
Sunday – Thursday  |  11:00 am – 10:00 pm
Friday & Saturday  |  11:00 am – 11:30 pm
Phone
(215) 735-7700
Web Site
View Larger Map
Jeff Belonger has been in the mortgage industry for 19+ years and now wants to do something different. With his experience of blogging and social media, Jeff wants to share all of what Philadelphia has to offer, so he created MyPhillyAlive.com. At MyPhillyAlive, we want to share the excitement that the City of Philadelphia resonates. Sharing the passion within, from the people of Philadelphia. At MyPhillyAlive, we'll be talking about Philadelphia restaurants, fun bars, the city night life, the history of Philadelphia, Philly attractions & events, the arts, sports, and much more. We want people to add their experiences regarding Philadelphia, even if they are from out of town, which can be done on our Facebook fan page as well. www.facebook.com/MyPhillyAlive At the end of the day, we want to be different from the many Philadelphia sites. We want our site to be easy to navigate, while at the same time, we want you to not only find the hot spots, the best things to do in Philadelphia; but those hidden gems within the city. Thanks...
More Posts - Website - Twitter - Facebook - LinkedIn