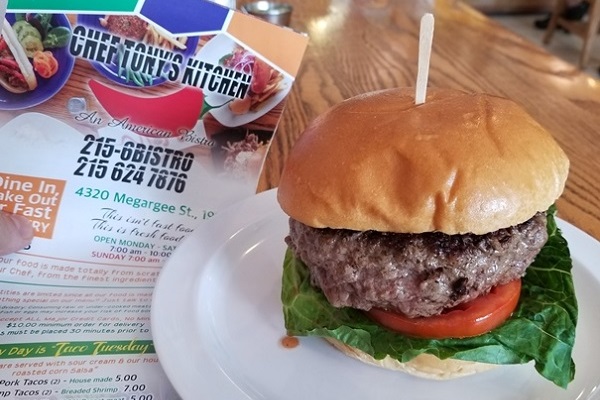 'A No-Frills Looking Restaurant That Serves Exceptional Tasting Food'
Chef Tony's Kitchen is a diamond in the rough in the Northeast Philadelphia area which is located at 4320 Megargee Street.
Opened in November 2016, owner Anthony Hughes journey into the restaurant business has been interesting.
Chef Tony had retired to the Dominican Republic from 2010 to 2012.  Here he opened Fat Tony's for 1 1/2 years. After finding some success, he decided to move back to the Northeast Philly area.
In 2012, Hughes trained under Chef Francesca Morarta while in culinary school from 2012 to 2013. He then went on to work for a few catering companies before opening his current restaurant in November 2016.
I asked Chef Tony what he liked about cooking:
"I love when I get that immediate real reaction from a customer that they truly liked the food."
Chef Tony's Kitchen's Atmosphere & Experience
When you enter Chef Tony's Kitchen, you'll see tables, chairs, a counter and the kitchen in the rear. The restaurant seats 35 to 40 people and they can accommodate up to 50 people when holding parties or celebrations.
What surpasses the ordinary look is the fresh smelling aromas coming from the kitchen and the very pleasant staff that will great you as you walk in.
The food created at the kitchen is homemade on the premise. There seems to be a lot of love that goes into the food.
Some of the specialties that seem to be a hit at Chef Tony's Kitchen are: Stuffed burgers, stuffed wings, home made tacos, ribs, stuffed onion rings, crab cakes and their homemade ice cream which is made by Chef Tony's wife, Angelique Hughes.
Alert! Their stuffed burgers are a half-pound as opposed to their regular burgers being a quarter-pound.
I had the pleasure of trying the stuffed bacon cheddar burger, the mac and cheese bites and their stuffed chicken wing which was stuffed with mac and cheese. One other item that I truly enjoyed was their homemade Apple Pie Moonshine ice cream. Wow, it was amazingly good.
No matter if you are living in City of Philadelphia or in Northeast Philly, if you happen to be out that way, I suggest stopping into Chef Tony's Kitchen. Keep in mind that my comments regarding their food is of my opinion and is no endorsement for any such special considerations.
FYI – Stay tuned! Pizza might be on the horizon!
Chef Tony's Kitchen Extras
BYOB – Bring your own beer, wine and liquor.
Catering – Off premise or at the restaurant. They will do custom catering that can be off menu. Just ask for a consultation.
Can hold parties at the restaurant up to 50 people.
Delivery – They have their own drivers that will delivery up to a few miles. They also can be found on UberEats and Grubhub.
Location
4320 Megargee Street
Northeast Philadelphia, 19136
Hours
Monday – Saturday  |  11:00 am – 10:00 pm
Sunday  |  2:00 pm – 10:00 pm
Phone
(215) 624-7876  |  Catering: (215) 251-1751
Web Site
Photos By Jeff Belonger for MyPhillyAlive
Jeff Belonger has been in the mortgage industry for 19+ years and now wants to do something different. With his experience of blogging and social media, Jeff wants to share all of what Philadelphia has to offer, so he created MyPhillyAlive.com. At MyPhillyAlive, we want to share the excitement that the City of Philadelphia resonates. Sharing the passion within, from the people of Philadelphia. At MyPhillyAlive, we'll be talking about Philadelphia restaurants, fun bars, the city night life, the history of Philadelphia, Philly attractions & events, the arts, sports, and much more. We want people to add their experiences regarding Philadelphia, even if they are from out of town, which can be done on our Facebook fan page as well. www.facebook.com/MyPhillyAlive At the end of the day, we want to be different from the many Philadelphia sites. We want our site to be easy to navigate, while at the same time, we want you to not only find the hot spots, the best things to do in Philadelphia; but those hidden gems within the city. Thanks...
More Posts - Website - Twitter - Facebook - LinkedIn