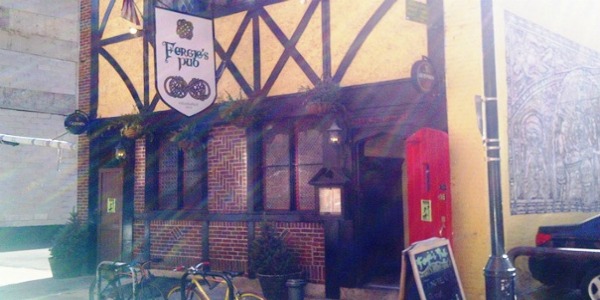 'A Traditional Irish Pub'
Fergie's Pub is an Irish bar in Philadelphia located in Center City that is Irish owned. Located not far from both the Forrest Theater and Walnut Street Theatre.
Fergie's Pub Experience & Atmosphere
Fergie's Pub is your typical divey Irish pub and not in a bad way when using the word 'divey'.  The pub has a laid back atmosphere, good food, and fair prices for the area. Consider it a little Irish pub with dark wood and that it's intimate when not crowded.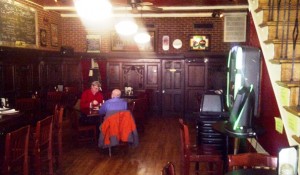 Fergie's has 11 beers on tap, 38 bottled beers and 4 types of wine with your different choices of whiskeys and scotches. besides your typical Sheperd's Pie and Fergie's fish and chips, the pub serves burgers, Bebe's barbeque sandwiches, and more.  The menu also includes both vegetarian and vegan fare, so don't miss the hummus, pub fries, veggie chili, and the black-bean burger.
The ground-floor serves as meeting place central for folks of all walks with a small dining area if you want to sit and relax. The upstairs at times you will find bands and a popular game of Quizzo twice a week.
Fergies's Pub is just another good Irish bar in Philadelphia to add to your list, especially if you want something that is not your ordinary corporate bar. Considering that it is Irish owned, Fergie adds some different elements not found throughout other Irish bars. If anything, just stop in to say hi to Fergie.
Fergie's Pub Extras
Monday's  |  Open mic night  |  9:00 pm
Tuesday's  |  Quizzo  |  9:00 pm
Thursday's  |  Quizzo  |  9:00 pm
Saturday's  |  Traditional Irish music  |  4:00 pm
Sunday's  | Rusty Cadillac  |  8:00 pm
Check events page. Some things appear on Wednesday's & Fridays  |  Click here
Location
1214 Sansom Street
Philadelphia, PA 19102
Hours
Monday – Saturday  |  11:30 am – 2:00 am
Sundays  |  4:00 pm – 2:00 am
Phone
(215) 928-8118
Web Site
Related Articles About Irish Bars in Philadelphia
Bards, The– 2013 Walnut St – Rittenhouse Square
Black Sheep– 247 S. 17th St – Rittenhouse Square
Blarney South Bar & Grille, The – 328 South St – South Street District
Brownies Pub – 46 S. 2nd Street – Old City
Cavanaugh's Restaurant/Pub – 119 S 39th St – University City
Cavanaugh's Rittenhouse– 1823 Sansom St – Rittenhouse Square
Con Murphy's– 1700 Benjamin Franklin Parkway – Museum Area/Logan Square
Dark Horse– 421 S. 2nd St – Head House Square
Downey's Restaurant & Pub– 526 South Front St – Society Hill
Fadó Irish Pub– 1500 Locust St – Center City
Fergie's Pub– 1214 Sansom St – Center City/Market East
Finnigan's Wake – 537 N 3rd St – Northern Liberties
For Pete's Sake – 900 S Front St – Queen Village
Irish Pub– 2007 Walnut St – Rittenhouse Square
Irish Times, The – 629 S. 2nd St – Queen Village
Kelliann's Bar & Grill – 1549 Spring Garden St – Spring Garden/Fairmount
Kildare's – 4417 Main St – Manayunk
McCrossen's Tavern – 529 N. 20th St – Art Museum District/Fairmount
McFadden's Ballpark – 1 Citizens Bank Way (at Citizens Ball Park) – South Philly
McFadden's Restaurant & Saloon – 461 N. Third St – Edge of Northern Liberties & Spring Garden area
McGillin's Olde Ale House– 1310 Drury St – Market East
McGlinchey's Bar & Grill – 259 S. 15th St – Rittenhouse Square/Avenue of the Arts
Moriarty's Restaurant & Irish Pub– 1116 Walnut St – Center City East
Murph's Bar – 202 E. Girard Ave – Fishtown
New Deck Tavern – 3408 Sansom Street – University City
O'Neals Irish Pub & Restaurant– 611 South 3rd St – Queen Village
Paddy Whacks Irish Pub– 150 South St – Head House Square
Plough & the Stars– 123 Chestnut St – Old City
Sláinte – 3000 Market St – University City
St. Stephen's Green – 1701 Green St – Fairmount
The Irish Pol – 45 S. 3rd St – Old City
Tir Na Nog – 1600 Arch St – Museum Area/Logan Square
View Larger Map
Jeff Belonger has been in the mortgage industry for 19+ years and now wants to do something different. With his experience of blogging and social media, Jeff wants to share all of what Philadelphia has to offer, so he created MyPhillyAlive.com. At MyPhillyAlive, we want to share the excitement that the City of Philadelphia resonates. Sharing the passion within, from the people of Philadelphia. At MyPhillyAlive, we'll be talking about Philadelphia restaurants, fun bars, the city night life, the history of Philadelphia, Philly attractions & events, the arts, sports, and much more. We want people to add their experiences regarding Philadelphia, even if they are from out of town, which can be done on our Facebook fan page as well. www.facebook.com/MyPhillyAlive At the end of the day, we want to be different from the many Philadelphia sites. We want our site to be easy to navigate, while at the same time, we want you to not only find the hot spots, the best things to do in Philadelphia; but those hidden gems within the city. Thanks...
More Posts - Website - Twitter - Facebook - LinkedIn