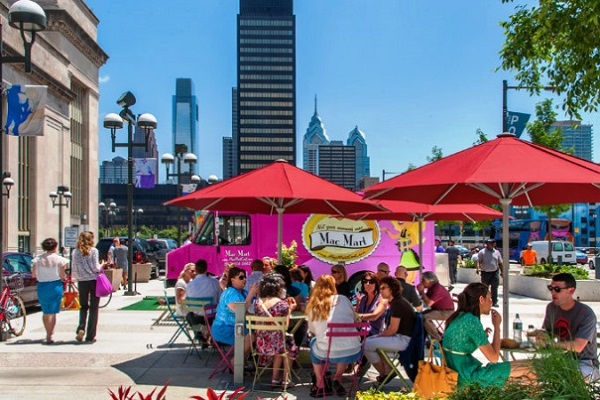 'Enjoying Food Trucks At The Porch'
Looking for a great lunch spot? Check out The Porch at 30th Street Station!
Starting in March of each year, you'll find food trucks Monday through Friday from 11:30 am to 2 pm. Visitors will also be able to enjoy breakfast Tuesday and Thursday 7:30 am to 9 am.
Enjoy the landscaping and scenery while savoring food at tables, benches and even porch swings in University City!
Beginning in May, The Porch will feature pop-up music, dance, and theater performances. 
Check out the monthly food truck schedule: Click Here
Location
The Porch at 30th Street Station
University City in Philadelphia
Dates
March – September, 2017
Times
Breakfast
Tuesday & Thursday  |  7:30 am – 9:00 am
Lunch
Monday – Friday  |  11:30 am – 2:00 pm
Cost
Pay-As-You-Go
Web Site
Photo Courtesy of University City District
Map
Jeff Belonger has been in the mortgage industry for 19+ years and now wants to do something different. With his experience of blogging and social media, Jeff wants to share all of what Philadelphia has to offer, so he created MyPhillyAlive.com. At MyPhillyAlive, we want to share the excitement that the City of Philadelphia resonates. Sharing the passion within, from the people of Philadelphia. At MyPhillyAlive, we'll be talking about Philadelphia restaurants, fun bars, the city night life, the history of Philadelphia, Philly attractions & events, the arts, sports, and much more. We want people to add their experiences regarding Philadelphia, even if they are from out of town, which can be done on our Facebook fan page as well. www.facebook.com/MyPhillyAlive At the end of the day, we want to be different from the many Philadelphia sites. We want our site to be easy to navigate, while at the same time, we want you to not only find the hot spots, the best things to do in Philadelphia; but those hidden gems within the city. Thanks...
More Posts - Website - Twitter - Facebook - LinkedIn