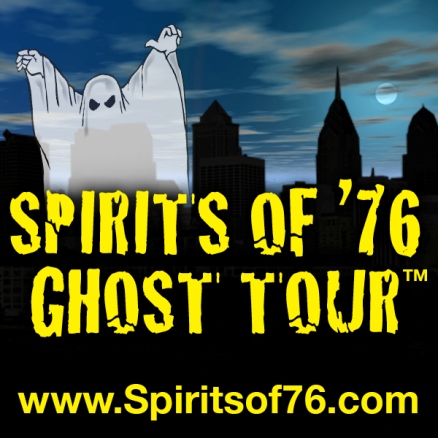 Halloween in Philadelphia – The Spirits of '76 Ghost Tour
Halloween in Philadelphia always has some sort of spooks, ghosts, and or scary stories around one corner or another. I was fortunate enough to win a ticket to the Spirits of '76 Ghost Tour in Philadelphia and took the tour last night. The tour is affiliated with the Constitutional Walking Tour of Philadelphia.
The Spirits of '76 Ghost Tour weaves in and around parts of Society Hill and Old City and is approximately 1 1/2 hours long while walking about 1.2 miles. You visit more than 20 scary sites in which you hear about Philadelphia's haunted facts and folklore. You first start off with a little history such as who founded the City of Philadelphia and the Greek meaning of Philadelphia, which can be found here. ~ History of Philadelphia ~ Some of the haunted facts that you learn are about Edgar Allan Poe, who used to reside in Philadelphia and about Leo Callahan, the only prisoner to escape from Eastern State Penitentiary and never be captured. You also learn about a specific murder, in which a family was killed, yet never finding out who did this devious crime. Then there are the folklore stories about the legendary ghosts that inhabit Independence Hall, the spirits of Carpenters' Hall from a first person encounter, the dancing statue of Benjamin Franklin at Library Hall, and much more.
Overall, I enjoyed the tour and learned several new things about Philadelphia that I never knew. We had a very good tour guide, Tim, who has been doing this for three years. Tim was very knowledge and you could tell that he enjoyed giving the tour, which made the tour even more enjoyable. And don't forget that we had nice weather.
Location :
Meet outside of Così® Restaurant at 325 Chestnut Street (corner of 4th & Chestnut Streets) each evening before the tour.
Dates :
Runs from April through November. (certain dates & times) October : daily starting @ 7:30 pm. Extended hours in October : Thurs/Fri/Sat/& Halloween @ 9:30 pm. And Sat & Sun @ 6:00 pm.
Tickets :
Those that purchase a ticket get a free glow stick. Specials if ordered online or by phone. – Tickets
Phone :
(215) 525-1776
Halloween in Philadelphia – (things to do and attractions)
The pictures with the Spirits of '76 Ghost Tour tag are courtesy of the tour.
Jeff Belonger has been in the mortgage industry for 19+ years and now wants to do something different. With his experience of blogging and social media, Jeff wants to share all of what Philadelphia has to offer, so he created MyPhillyAlive.com. At MyPhillyAlive, we want to share the excitement that the City of Philadelphia resonates. Sharing the passion within, from the people of Philadelphia. At MyPhillyAlive, we'll be talking about Philadelphia restaurants, fun bars, the city night life, the history of Philadelphia, Philly attractions & events, the arts, sports, and much more. We want people to add their experiences regarding Philadelphia, even if they are from out of town, which can be done on our Facebook fan page as well. www.facebook.com/MyPhillyAlive At the end of the day, we want to be different from the many Philadelphia sites. We want our site to be easy to navigate, while at the same time, we want you to not only find the hot spots, the best things to do in Philadelphia; but those hidden gems within the city. Thanks...
More Posts - Website - Twitter - Facebook - LinkedIn