.
Halloween in Philadelphia – Top Haunted Attractions
.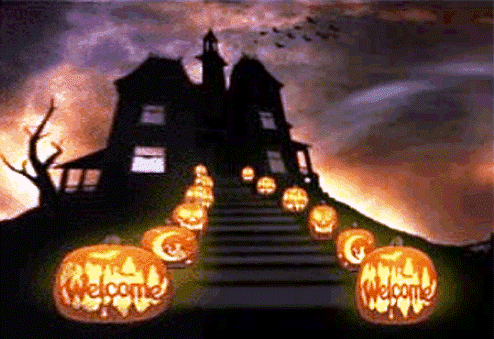 Philadelphia certainly has its share of spooks, goblins, and ghost stories. Halloween in Philadelphia can be a treat for all ages, ranging from hayrides to haunted attractions. We would like to share with you the different Halloween events happening in and around Philadelphia. The question is, "do you dare…"
Before you jump into the Halloween events below, please listen along with some Halloween music. (opens in a new window)
Monster Mash – by Bobby Pricket  |  Thriller – by Michael Jackson  |  Ghost Busters – by Ray Parker Jr  |  Halloween – by Daniel Caine  |  Werewolves of London – by Warren Zevon  |  Dead Man's Party – by Oingo Boingo  |  Time Warp – The Rocky Horror Show
Halloween Attractions & Events in Philadelphia - (in no particular order)
.
Prisons are scary any time of the year, but how about America's first prison, Easter State Penitentiary, surrounding the Halloween festivities. Are you a real fear seeker? Do you double-dare yourself?   For more info : Terror Behind the Walls
Location : Fairmount in Philadelphia  |  Dates : September 23th – November 5th
The Bates Motel and their Haunted Hayride is consistently ranked as one of the top attractions in America by CNN.com & USA Today. The haunted hayride uses amazing props, digital FX, and great actors with professional makeup.
Location : Glen Mills, PA - directions |  Dates : October 7th – 31st – Hours of Operation
The Ghost Tour of Philadelphia actually has 5 different attractions throughout the City of Philadelphia. Such things as the Haunted Trolley Tour, the Ghost Hunting Tour, or the Candlelight Walking Tour. Many of the haunted stories that you will hear have to do with historical events surrounding Philadelphia. For more detailed information, Ghost Tour of Philadelphia
Location : Philadelphia  |  Dates : Year Round
Spooky Mini Golf at Franklin Square
A miniature golf course that transforms into a spooky miniature golf course with music and surprises. (weekends – info below) With special Halloween events such as : Pick and paint your own pumpkins – kids free (October 22-23 | 12pm-3pm), celebrate PumpkinFest – Face & pumpkin painting, spooky carnival games, magic, & much more. Ticket Info – 215.629.4026  (October 29 | 3pm – 6pm), or Trick-or-Treat by showing off your costumes on the Trick-Or-Treat Trail – free – (October 29-30 | 12pm – 3pm).
Location : Race Street between 6th & 7th Streets in Franklin Square in Philadelphia  |  Dates : Through October on Fri/Sat/Sun   6 pm – 10 pm  |  Phone : 215.629.4026
The Laurel Hill Cemetery events will differ; from a walking tour with such ghostly stories of a Civil War hero George Meade or Philly gangster, to a tour of the burial sites of local brewers (which there will be beer tasting/reception at the end), to dining with the dead (where a buffet-style candlelit dinner will be served). There will also be a family day on Sunday, October 23rd which will include scavenger hunts, bobbing for apples, pumpkin painting, arts & crafts, and much more. For more info : List of tours & packages
Location : Laurel Hill Cemetery on 3822 Ridge Av in Philadelphia  |  Dates : Month of October (go to site for specific events & dates)
The Fright Factory is a spooky warehouse with 4 haunted attractions such as a subterranean laboratory, a hunted asylum, the undercroft cemetery, or the Amygdala (mind altering).  More Info : Fright Factories haunted attractions
Location : Swanson St in Philadelphia  |  Dates : Weekends & Specific days in October – Days & Hours of Operation
Sesame Place transforms into a soft-friendly Halloween place where it will feature two themed mazes, a character hayride, three Halloween shows, and the Sesame Street friends dressed in Halloween attire.
Location : Sesame Place – Langhorne, PA - Directions  |  Dates : Weekends of September 24th through October 25th
Hear scary bone chilling stories while visiting more than 20 sites throughout Philadelphia such as St. Peter's Church & Cemetery, Independence Hall, the Liberty Bell, Edgar Allen Poe, City Tavern, and much more. List of Places
Location : Tours meet at Cosi Restaurant @ 325 Chestnut St. (corner of 4th & Chestnut) Philadelphia  |  Dates : April – November (Daily in October) Tickets & Times
Halloween in Philadelphia – (things to do and attractions)
Jeff Belonger has been in the mortgage industry for 19+ years and now wants to do something different. With his experience of blogging and social media, Jeff wants to share all of what Philadelphia has to offer, so he created MyPhillyAlive.com. At MyPhillyAlive, we want to share the excitement that the City of Philadelphia resonates. Sharing the passion within, from the people of Philadelphia. At MyPhillyAlive, we'll be talking about Philadelphia restaurants, fun bars, the city night life, the history of Philadelphia, Philly attractions & events, the arts, sports, and much more. We want people to add their experiences regarding Philadelphia, even if they are from out of town, which can be done on our Facebook fan page as well. www.facebook.com/MyPhillyAlive At the end of the day, we want to be different from the many Philadelphia sites. We want our site to be easy to navigate, while at the same time, we want you to not only find the hot spots, the best things to do in Philadelphia; but those hidden gems within the city. Thanks...
More Posts - Website - Twitter - Facebook - LinkedIn