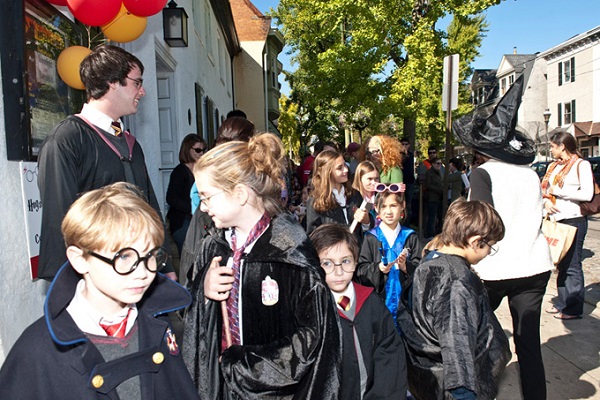 'Exploring the World of Wizards in Chestnut Hill' 
Attention all wizards and muggles who want to explore Witchcraft and Wizardry. The Harry Potter Festival returns to Chestnut Hill!
Enjoy two days of magical adventures and fantasy as this spectacular annual event takes over the town of Chestnut Hill on Friday, October 20, and Saturday, October 21.
Explore a weekend of wizards, spells, potions, scavenger hunts, wizard chess, parades and more.
Activities that were held on the Avenue in previous years, this year's festival will fill 12 blocks of Germantown Avenue in Chestnut Hill and moved into lots in surrounding areas to help create open streets and ease of access for festival-goers, making it the biggest Harry Potter Festival in Chestnut Hill to date. Increased service offerings, including additional restroom facilities and concessions will be added to the festival footprint as well.
Friday, October 20
Film Showing & Pizza Party: 5 pm – 7 pm – Harry Potter & The Sorcerer's Stone in the 

Gryffindor Common Room 

at The Presbyterian Church of Chestnut Hill at 6:00 pm to 8:00 pm. The church is located at 8855 Germantown Avenue. Cost: $5 per person. For info, 

Click Here

.
Costume Contest ~ At 8 pm

dress as your favorite Harry Potter character during the annual costume contest!

  ~

Costume Contest

~
Saturday, October 21
10:00 am – 6:00 pm – The Bales of Cornwall Hay Maze at 

Woodmere Art Museum

. Bring the little ones to explore the 2017 Straw Maze: an installation sculpture made from massive straw bales. Beware of the Serpent of Slytherin! For details, 

Click Here

.
More activities & events from 10 am to 4 pm
- Harry Potter Quizzo
- Kids' Carnival and Photo Booth  9:00 am – 3:00 pm  $5 per person ~ Step on up for some Harry Potter themed carnival games and treats! Witches and wizards of all ages, try your hand at a ring toss and strike a pose in our photo booth to capture images of your magical experience of the 2017 Harry Potter Festival. ~ Tickets (can be bought at the door as well) ~
- Paul's Great Hall: 11:30 am & 2 pm – An immersive experience in "St Paul's Great Hall" with themed decor (including floating candles) and your favorite Hogwarts teachers. A scrumptious luncheon of Shepard's Pie, Salad, Pasties and Butter Beer (kid friendly) will be served.  Vegetarian option available. ~ Info ~ ~ Tickets ~
- Meet Harry Potter and friends
- Dumbledore's Greeting
- Photo Ops: Hedwig's Hollow Selfie Park, 4 Privet Drive Photo Op, Platform 9 ¾ and many more magical spots to capture your favorite selfie.
- Magical Wristbands offer Potter fans exclusive access to 10 unique interactive "make and take" activities designed for kids ages 4-12.  Activities in this designated area include: make your own Golden Stitch, make your own glasses, owl decorating, design your own crest, bubble wands, Potter pics, choose your own Patronus, and much more. ~ Get Wristbands ~ Advanced purchase of wristbands required for activities in these designated zones.
- The Science of Wizarding demonstrations (Along Germantown Ave)
- Muggles Read-a-Thon (Along Germantown Ave)
- Sorting Hat Demonstration (Along Germantown Ave)
- Ice sculpting demonstrations (Along Germantown Ave)
Germantown Avenue from Cresheim Valley Drive to Chestnut Hill Avenuewill be shut down to vehicular traffic and open up to festival-goers only on Saturday, October 21. Both the Festival and the Quidditch Tournament are free and open to the public.
Festival event is rain or shine!
Harry Potter Festival
Location
Throughout Chestnut Hill
Dates
October 20 & 21, 2017
Time
Check Schedule Above
Cost
Most events, but not all, are FREE.
Web Site
Photo courtesy of Chestnut Hill Business Association
Jeff Belonger has been in the mortgage industry for 19+ years and now wants to do something different. With his experience of blogging and social media, Jeff wants to share all of what Philadelphia has to offer, so he created MyPhillyAlive.com. At MyPhillyAlive, we want to share the excitement that the City of Philadelphia resonates. Sharing the passion within, from the people of Philadelphia. At MyPhillyAlive, we'll be talking about Philadelphia restaurants, fun bars, the city night life, the history of Philadelphia, Philly attractions & events, the arts, sports, and much more. We want people to add their experiences regarding Philadelphia, even if they are from out of town, which can be done on our Facebook fan page as well. www.facebook.com/MyPhillyAlive At the end of the day, we want to be different from the many Philadelphia sites. We want our site to be easy to navigate, while at the same time, we want you to not only find the hot spots, the best things to do in Philadelphia; but those hidden gems within the city. Thanks...
More Posts - Website - Twitter - Facebook - LinkedIn