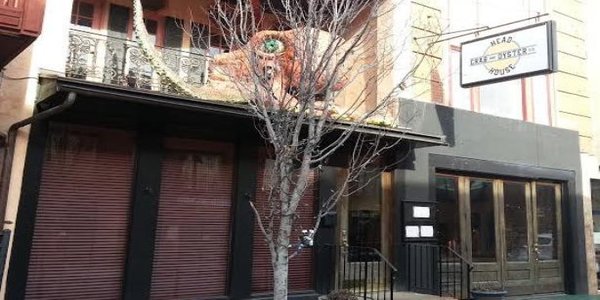 'Succulent Seafood on South Street'
Headhouse Crab and Oyster Co, once Ralic's on South, has been transformed into a seafood lovers restaurant. Located in the Society Hill neighborhood of Philadelphia that is located on South Street in the Head House District, Headhouse Crab and Oyster Co re-opened in October 2013.
Owner David Ralic brought in partner and chef Mike Stollenwerk to help reinvent the restaurant and some of its seafood dishes. What they have created is different fun foods that everyone can enjoy.
Headhouse Crab & Oyster Experience & Atmosphere
Headhouse Crab and Oyster is a 2-story upscale restaurant, seating 180 people, that has that casual unpretentious appeal with very reasonable prices.
When walking in the front door, you are greeted by enormous glass doors and a beautiful chandelier. There is a gorgeous wooden bar to the left and hand painted "under the sea" murals tastefully painted all over the restaurant, even on the ceiling.
As you explore the restaurant with your eyes, there are several cool features that capture your attention. The large octopus that is featured in the picture above, cool architecture and designs throughout, and the foam piece above the side bar that was created by hand by a father and son.
What impressed us is the size of this establishment. Besides the main dining area and main bar, there is a back dinning room, an upstairs room for parties and larger crowds, a sitting room to enjoy live entertainment, and the outdoor beer garden with small pond that will be open on nice weather days.
Headhouse Crab and Oyster has a good mix of seafood items on their menu with very good prices when it comes to seafood. Speaking to partner David Ralic, he stated:
"We wanted to keep prices at a very reasonable price point without the quality of the food suffering, and we think we have done an excellent job at this."
When it comes to their food, as an appetizer, start off with their mouth watering garlic clams, their crispy calamari with longshot peppers and garlic aioli or their clams casino.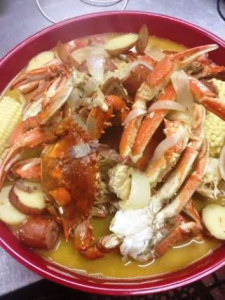 Jumping into the core of the menu, they have three different types of seafood boils that are all served with corn, potatoes, sausage and onions. Their Traditional Boil is served with lobster, shrimp, clams and mussels. The restaurant even features a raw bar with several types of oysters, u-peel shrimp, topnecks, lobster salad and crab cocktail.
Not in the mood for seafood, you also can select a Vegas Strip Steak or their House Bland La Frieda Burger.
The bar features freshly squeezed juice cocktails, a vast assortment of 12 draft beers and 12 bottled beers that are locally produced craft-brews and a stellar collection of wines.
Headhouse Crab and Oyster Company looks to fit any kind of occasion, may it be a date, a family outing, out with the gang for some drinks, or if you want to host a party. No matter the occasion, I don't think you will walk away disappointed.
Headhouse Crab & Oyster Extras
Happy Hour  |  Tuesday – Saturday  |  5:00 pm – 6:30 pm
Happy Hour  |  Friday – Saturday  |  10:00 pm – 11:00 pm
Happy Hour  |  Sundays  |  2:00 pm – 4:00 pm
Sunday's  |  All You Can Eat Snow Crab Legs
9 televisions for those sports lovers
Catering Available
Host all kinds of parties at Headhouse Crab & Oyster Co  |  Inquirer within
Text "SEAFOOD" to 91944 to join VIP list for special offers
Location
119 South Street
Philadelphia, PA 19147
Hours
Monday  |  Closed
Tuesday – Thursday  |  4:00 pm – 10:00 pm
Friday  |  4:00 pm – 11:00 pm
Saturday  |  12:00 pm – 11:oo pm
Sunday  |  12:00 pm – 10:00 pm
Phone
(215) 418-0600
Web Site
Jeff Belonger has been in the mortgage industry for 19+ years and now wants to do something different. With his experience of blogging and social media, Jeff wants to share all of what Philadelphia has to offer, so he created MyPhillyAlive.com. At MyPhillyAlive, we want to share the excitement that the City of Philadelphia resonates. Sharing the passion within, from the people of Philadelphia. At MyPhillyAlive, we'll be talking about Philadelphia restaurants, fun bars, the city night life, the history of Philadelphia, Philly attractions & events, the arts, sports, and much more. We want people to add their experiences regarding Philadelphia, even if they are from out of town, which can be done on our Facebook fan page as well. www.facebook.com/MyPhillyAlive At the end of the day, we want to be different from the many Philadelphia sites. We want our site to be easy to navigate, while at the same time, we want you to not only find the hot spots, the best things to do in Philadelphia; but those hidden gems within the city. Thanks...
More Posts - Website - Twitter - Facebook - LinkedIn