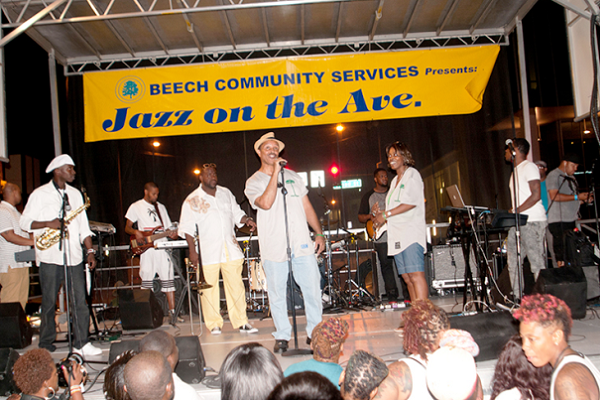 'Relax With Live Music On The Streets Of Philadelphia!'
Cecil B. Moore Avenue, during the 1940′s until the 1960′s,  was called Columbia Avenue and served as Philadelphia's hub for jazz and entertainment.
Come on out on Saturday, August 12 and relive this inspiring outdoor festival at the 11th Annual Jazz on the Ave Music Fest, which takes over Cecil B. Moore Avenue from Broad Street to 17th. Presented by Beech Community Services and hosted by WDAS radio personality Patty Jackson and Dyana Williams.
There will be two stages, the main stage located on Broad Street and Cecil B. Moore Avenue and the Philly Soul Stock stage at 17th Street and Cecil B. Moore Avenue.
Enjoy Grammy Award-winning and nominated artists, including Tony Rich, Eric Roberson, Glenn Lewis and other performers as well.
Also a kids' zone with face painting, clay sculpting, and rock climbing, health and wellness screenings, craft and food vendors at the festival. The Kids' Zone is 1 pm tp 5 pm on Sydenham Street and Cecil B. Moore Avenue.
Explore Philly and take delight with great music in North Philadelphia!
Location
North Philadelphia
Cecil B. Moore Avenue; from Broad to 17th Streets
Date
August 12, 2017
Time
Noon – 8:30 pm
Cost
FREE to Attend  |  Pay-As-You-Go
Web Site
Photo Courtesy of Beech Companies

Jeff Belonger has been in the mortgage industry for 19+ years and now wants to do something different. With his experience of blogging and social media, Jeff wants to share all of what Philadelphia has to offer, so he created MyPhillyAlive.com. At MyPhillyAlive, we want to share the excitement that the City of Philadelphia resonates. Sharing the passion within, from the people of Philadelphia. At MyPhillyAlive, we'll be talking about Philadelphia restaurants, fun bars, the city night life, the history of Philadelphia, Philly attractions & events, the arts, sports, and much more. We want people to add their experiences regarding Philadelphia, even if they are from out of town, which can be done on our Facebook fan page as well. www.facebook.com/MyPhillyAlive At the end of the day, we want to be different from the many Philadelphia sites. We want our site to be easy to navigate, while at the same time, we want you to not only find the hot spots, the best things to do in Philadelphia; but those hidden gems within the city. Thanks...
More Posts - Website - Twitter - Facebook - LinkedIn