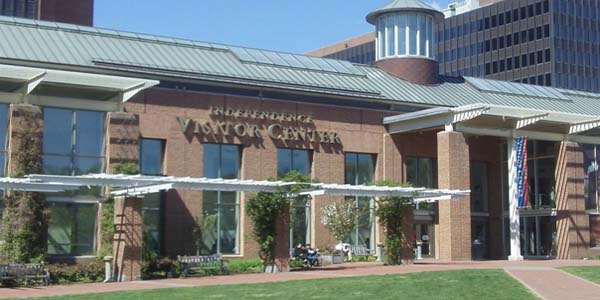 'Walk Through Philly's History Starting Here'
How many of you live in Philadelphia, PA and hardly get around to learn the History of Philadelphia. Or those of you visiting Philadelphia who want explore the historical sites. You might know the basics, which would include the Liberty Bell, Ben Franklin, George Washington, William Penn, The Revolutionary War, and the Declaration of Independence. But do you know anything else?
So where would a good place to start in regards to the History of Philadelphia. How about a place to help you with your planning such as the Independence Vistor Center. This is a great place to start because not only will they point out the historic sites and hot spots, but show you where you can eat, rest, and shop. Think about those at the Independence Visitor's Center as your own concierge and liaison to the City of Philadelphia.
What might you first see when walking into the visitor's center? Some individuals dressed up from the 1700′s & 1800′s to interact with you.
You can go as far as to having breakfast with Benjamin Franklin, or as his close friends would call him, Ben. Breakfast with Ben – Only from Memorial Day to Labor Day. Have kids? You can go to Franklin Square and play miniature golf or visit the other shops. And teachers, they have even gone as far to help you with your lesson plans. Lesson Plans for Teachers
Overall, there is so much to do and see, such as events, historical sites of Philadelphia, museums, and tours of Philadelphia. Click here for a list : Philadelphia Tourist Attractions
Location :
6th and Market Street Philadelphia, PA 19106
Hours of Operation :
7 days a week – Opening at 8:30 am -
Closing @ 5 pm winter
Closing @ 6 pm spring
Closing @ 7 pm summer
Closed on Thanksgiving and Christmas
Contact the Independence Vistor's Center
Related Articles about the History of Philadelphia
Jeff Belonger has been in the mortgage industry for 19+ years and now wants to do something different. With his experience of blogging and social media, Jeff wants to share all of what Philadelphia has to offer, so he created MyPhillyAlive.com. At MyPhillyAlive, we want to share the excitement that the City of Philadelphia resonates. Sharing the passion within, from the people of Philadelphia. At MyPhillyAlive, we'll be talking about Philadelphia restaurants, fun bars, the city night life, the history of Philadelphia, Philly attractions & events, the arts, sports, and much more. We want people to add their experiences regarding Philadelphia, even if they are from out of town, which can be done on our Facebook fan page as well. www.facebook.com/MyPhillyAlive At the end of the day, we want to be different from the many Philadelphia sites. We want our site to be easy to navigate, while at the same time, we want you to not only find the hot spots, the best things to do in Philadelphia; but those hidden gems within the city. Thanks...
More Posts - Website - Twitter - Facebook - LinkedIn