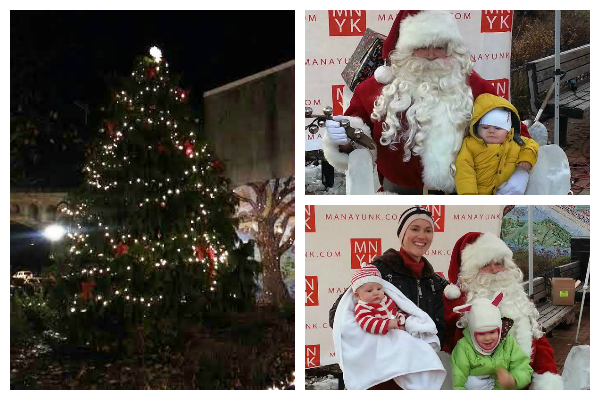 "Happy Holidays in Manayunk!"
Looking for some holiday spirit and family activities?
Come hang out in Manayunk for the day on November 25, 2017. Visitors will enjoy a Saturday full of fun, both for the young kid at heart and the adult.
You'll be able to hang all day for Small Business Saturday in Manayunk.
Finally, as night falls, enjoy the lighting of the brand new 35-foot Christmas tree in Canal View Park with a tree lighting ceremony at 5:30 pm.
There will be fun for the whole family. Don't forget about the many Manayunk restaurants and stores, to where you can start your holiday shopping or grab a bite to eat.
Location
Canal View Park
4420 Main Street
Manayunk, PA
Date
November 25, 2017
Time
Noon - 5:15 pm  |  Tree Lighting at 5:30 pm
Cost
FREE
Web Site
Jeff Belonger has been in the mortgage industry for 19+ years and now wants to do something different. With his experience of blogging and social media, Jeff wants to share all of what Philadelphia has to offer, so he created MyPhillyAlive.com. At MyPhillyAlive, we want to share the excitement that the City of Philadelphia resonates. Sharing the passion within, from the people of Philadelphia. At MyPhillyAlive, we'll be talking about Philadelphia restaurants, fun bars, the city night life, the history of Philadelphia, Philly attractions & events, the arts, sports, and much more. We want people to add their experiences regarding Philadelphia, even if they are from out of town, which can be done on our Facebook fan page as well. www.facebook.com/MyPhillyAlive At the end of the day, we want to be different from the many Philadelphia sites. We want our site to be easy to navigate, while at the same time, we want you to not only find the hot spots, the best things to do in Philadelphia; but those hidden gems within the city. Thanks...
More Posts - Website - Twitter - Facebook - LinkedIn