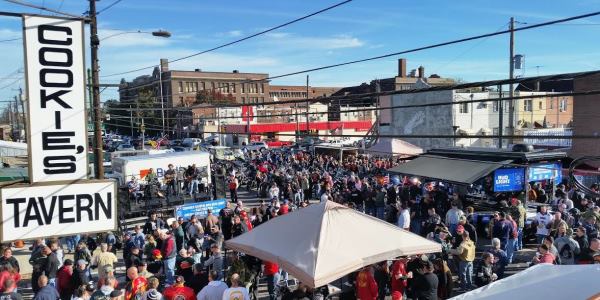 '242nd Marine Corps Birthday Celebration'
On November 10, 1775, the Continential Marines were established by the Second Continental Congress. Research indicates that the birthplace of the Corps, as the first place where Marines enlisted, was Tun Tavern in Philadelphia!
In 1781, the Tun Tavern burned down. Its former structure stood at a location now occupied by Interstate 95, where it passes Penn's Landing. A commemorative marker on the east side of Front Street indicates the site, across from Sansom Walk. (Tun Tavern Marker)
Fast forward to the end of 1969. Sergeant James Wagner, known as Daddy Wags, was a few years out of the Marine Corps, after serving two tours in Vietnam. He would stop into Cookie's Tavern from time to time, which at the time belonged to his uncle, Bill "Cookie" Cook. The bar was located in South Philly, near the corner of 10 Street and Oregon Avenue.
Daddy Wags cousin, Charlie Simpson, happened to walk into the bar on November 10, 1969 and saw Daddy Wags at the end of the bar having a beer. Charlie said, "let's drink a beer to the Marines' birthday." After that beer, they agreed that they should do this again, but tell more people about it.
So it went from two, to ten, to one-hundred, and now over 1,500 people. In 1977, Wagner bought the bar, keeping the name in honor of his uncle, and officially declaring the birthday party as an annual event.
Sergeant James "Daddy Wags" Wagner passed away on November 02, 2002. The bar was left to his daughter, Marion Wagner, who also continues the tradition that her dad started with the help of many. The rest of the story on Daddy Wags, Cookie's Tavern and Celebrating the Marines' birthday, click here.
Colonel Harvey C. "Barney" Barnum, former deputy assistant Secretary of the Navy and a Medal of Honor recipient, had this to say about Sergeant Wagner: 
Jim "Daddy Wags" Wagner was the kind of guy who, if there was a pothole in the church parking lot, he'd pay for it to be filled. There's not enough room in the biggest mansion to house this man's heart.
What adds to this event is the fact that Marines and others come from California, Texas, Georgia, North Carolina, Florida, etc just for the Marines birthday celebration at Cookie's Tavern.
Special Attractions At Birthday Celebration
Special Birthday Ceremony starting at 1 pm
The Honorable Jimmy Lynn will be singing the National Anthem
Live music 

from 

Hickstown Road

 band

Polish American String Band

 

at 7 pm

DJ playing later in the day & at night
Ceremony will be at 1 pm:
Honor Guard
Tom Lamaine is MC – Veteran Philadelphia broadcaster and former Unites States Marine
Jimmy Lynn singing our National Anthem 
Commandants Message
Councilman David Oh will be presenting the Proclamation 
Letter from Barney Barnum
Toys for Tots drop off bins
Cake cutting ceremony with the youngest and oldest Marine present
Sign in book to help find other Marines
Part of the proceeds from the event will go to Toys for Tots of Philadelphia! You can also bring toys or cash to donate as well!
Special Package at Marines Birthday Celebration (

click here

 for details)
Cookies Drawstring Bag includes:
● Wrist Band for all your can drink beer
● Food
● Cookie's Hat
● Cookie's beer cozy
● Beer Mug
● 242nd T-Shirt
● Giveaway from beer company
For $50, you can get a Marines celebration t-shirt and a wristband for all you can drink beer and eat! And there will be t-shirts, sweatshirts, hoodies, hats and more on sale as well. The event is rain or shine.
This special birthday celebration is open to the public & all branches of the military!
Veterans Day is November 11!
Video From November 10, 2011 By Patrick J. Hughes
Marines Birthday Celebration At Cookie's Tavern
Location
Cookie's Tavern
2654 S Alder St (corner of 10th St & Oregon Ave)
Philadelphia, PA 19148
Date
November 10, 2017  | Rain or Shine
Time
11:00 am – 8:00 pm or later  |  Bar will stay open until 2:00 am
Ceremony  |  Approximately at 1:00 pm
Web Site
Photos Courtesy of Jeff Belonger for MyPhillyAlive
Jeff Belonger has been in the mortgage industry for 19+ years and now wants to do something different. With his experience of blogging and social media, Jeff wants to share all of what Philadelphia has to offer, so he created MyPhillyAlive.com. At MyPhillyAlive, we want to share the excitement that the City of Philadelphia resonates. Sharing the passion within, from the people of Philadelphia. At MyPhillyAlive, we'll be talking about Philadelphia restaurants, fun bars, the city night life, the history of Philadelphia, Philly attractions & events, the arts, sports, and much more. We want people to add their experiences regarding Philadelphia, even if they are from out of town, which can be done on our Facebook fan page as well. www.facebook.com/MyPhillyAlive At the end of the day, we want to be different from the many Philadelphia sites. We want our site to be easy to navigate, while at the same time, we want you to not only find the hot spots, the best things to do in Philadelphia; but those hidden gems within the city. Thanks...
More Posts - Website - Twitter - Facebook - LinkedIn