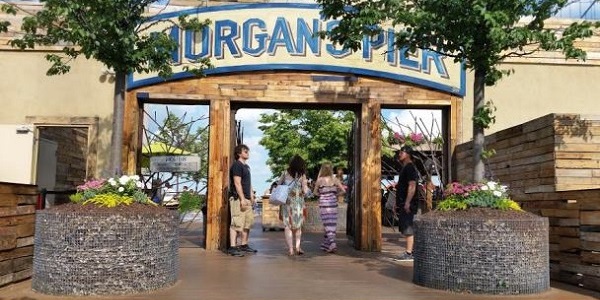 'An Outside Paradise'
Morgan's Pier, reopening on April 20, 2017, is an outdoor beer garden style bar and lounge that is right next to the Ben Franklin Bridge on Columbus Boulevard in Penn's Landing. Once a former location for Rock Lobster and a quick stay for Octo8, Morgan's Pier first opened on May 25, 2012.
Morgan's Pier Experience & Atmosphere
Philadelphia waterfront's bar, Morgan's Pier, is a great complement to Race Street Pier because of its openness, having a large space in which you can get around freely and because of the lush greenery and scenery.
You will get to experience the wooden picnic tables, vintage umbrellas, former cable spools as table tops, and trees strewn with market lights combined with urban and salvaged materials to provide an unique outdoor setting for Philly.
There are two bars, the main bar and the craft bar. They will offer a rotating selection of 20 draft beers, 20 craft cans, summer wines and signature cocktails.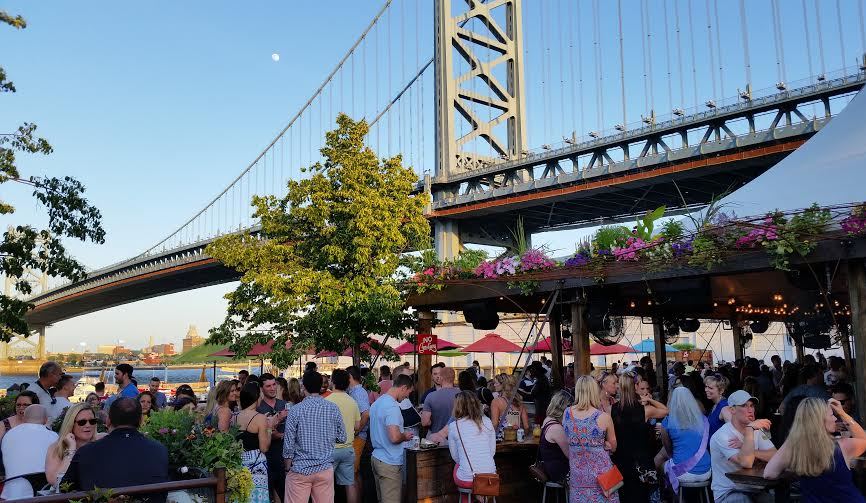 Each season, Morgan's Pier, invites a different renowned chef to take over the kitchen with their own version of a chef-hosted cookout, combining casual eats with celebrated expertise. This year, the Chef's menu will focus on unique ingredients from urban farms to complement simple summertime snacks.
The 2017 Chef's in Residence will be Kevin D'Egidio and Michael Griffiths, whose menu will be rotate throughout the season with vegetable centric items which can be ordered as single item or as a tasting of three. Other menu items will be their "easy to eat" Brown Sugar Glazed Ribs – slow cooked and marinated with brown sugar, whole grain mustard and garlic; as well as a shrimp roll sandwich with roasted red pepper aioli and cucumber.
Last year's popular chef's table – a 20-person, intimate dinner on the second level crow's nest will be available for booking all season again. Diners can enjoy the same breathtaking views but with new items from our chef's, for a family-style meal such as Dry Aged Duck paired with a Duck Confit Panzanella Salad.
So you have tasty food and good beers. What seems to be missing when at an outdoor establishment? Yes, you guessed it, good music. There will be weekly entertainment with DJs and live bands.  There will be Saturday afternoon concerts that will be free, starting June 9th and every Sunday at 3 pm, the deck will host the Sundae Open Air Dance Party, presented by Lee Jones.
How did Morgan's Pier come about? Named for George C. Morgan, who was the first person to cross the span of the Benjamin Franklin Bridge. Morgan did so by walking the final 50 feet of the incomplete foot bridge on a bare support cable 400 feet in the air.
Morgan's Pier Extras
Full menu served until 10:00 pm
Live bands & DJs
Brunch served on Saturday's & Sunday's
Tuesdays – game nights with prizes

Monthly Mini Beer Fests

Special Wednesday performances by the Sensational Soul Cruisers

Thursday Band Nights

Book Private Parties & Events  |  

Click Here
Location
221 N Columbus Blvd Philadelphia, PA 19123
Hours
Monday – Friday  |  4:00 pm – 2:00 am
Saturday – Sunday  |  11:00 am – 2:00 am
Brunch Hours
Saturday & Sunday  |  11:00 am – 1:00 pm
Phone
(215) 279 – 7134
Web Site
Photos by Jeff Belonger for MyPhillyAlive
Jeff Belonger has been in the mortgage industry for 19+ years and now wants to do something different. With his experience of blogging and social media, Jeff wants to share all of what Philadelphia has to offer, so he created MyPhillyAlive.com. At MyPhillyAlive, we want to share the excitement that the City of Philadelphia resonates. Sharing the passion within, from the people of Philadelphia. At MyPhillyAlive, we'll be talking about Philadelphia restaurants, fun bars, the city night life, the history of Philadelphia, Philly attractions & events, the arts, sports, and much more. We want people to add their experiences regarding Philadelphia, even if they are from out of town, which can be done on our Facebook fan page as well. www.facebook.com/MyPhillyAlive At the end of the day, we want to be different from the many Philadelphia sites. We want our site to be easy to navigate, while at the same time, we want you to not only find the hot spots, the best things to do in Philadelphia; but those hidden gems within the city. Thanks...
More Posts - Website - Twitter - Facebook - LinkedIn