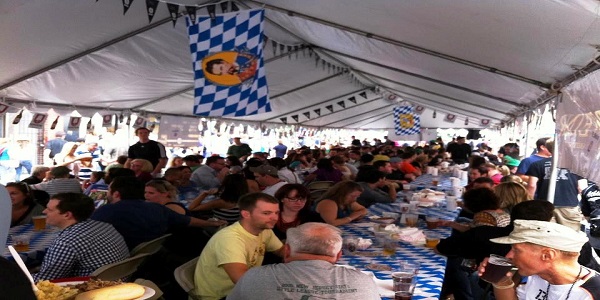 'Drink, Eat & Dance Oktoberfest Style'
Be prepared for a celebration as thousands attend Brauhaus Schmidtz's annual Oktoberfest on South Street stretching for three blocks!
The 9th annual festival takes place Saturday, September 16 from noon until 8 pm. Visitors will be able to feast on such German food as bratwurst, bauernwurst, potato salad, sauerkraut and jumbo pretzels that will be prepared by their very own Chef Jeremy Nolen and his crew.
Of course, a German festival, especially Oktoberfest, is not complete without steins of beer. Brauhaus Schmitz is pulling out all of the stops on this one. Visitors will be able to taste ten German notable beers as well.
Part of the festivities will include live Oompah music, face painting, the Liter lift competition, Schnapski, German folk dancing, and much more.
Do you truly want to enjoy this Oktoberfest street festival? Purchase a VIP ticket, which are very limited.  For $115 each (tax and gratuity included), receive such perks as; an all-you-can-eat Bavarian buffet from 1 pm to 6 pm, seven beer tickets, an official t-shirt, a liter size glass stein filled with "Oktoberfest survival supplies" and drum roll – access to no-wait bathrooms, which means no waiting in line to use the porta-potties. For VIP tickets, check right here.
Prost!
FYI – Check out the many events at Brauhaus Schmitz leading up to their Oktoberfest Street Festival. Click Here
The event is rain or shine!
Location
Brauhaus Schmitz
700 Block of South Street
Date
September 16, 2017
Time
Noon – 8:00 pm
Cost
VIP package $115  - Get VIP TIX  (Some tix still left!)  |  Otherwise pay as you go
Web Site
Photos Courtesy of Brauhaus Schmitz except last 2 photos, by Jeff Belonger of MyPhillyAlive
Jeff Belonger has been in the mortgage industry for 19+ years and now wants to do something different. With his experience of blogging and social media, Jeff wants to share all of what Philadelphia has to offer, so he created MyPhillyAlive.com. At MyPhillyAlive, we want to share the excitement that the City of Philadelphia resonates. Sharing the passion within, from the people of Philadelphia. At MyPhillyAlive, we'll be talking about Philadelphia restaurants, fun bars, the city night life, the history of Philadelphia, Philly attractions & events, the arts, sports, and much more. We want people to add their experiences regarding Philadelphia, even if they are from out of town, which can be done on our Facebook fan page as well. www.facebook.com/MyPhillyAlive At the end of the day, we want to be different from the many Philadelphia sites. We want our site to be easy to navigate, while at the same time, we want you to not only find the hot spots, the best things to do in Philadelphia; but those hidden gems within the city. Thanks...
More Posts - Website - Twitter - Facebook - LinkedIn