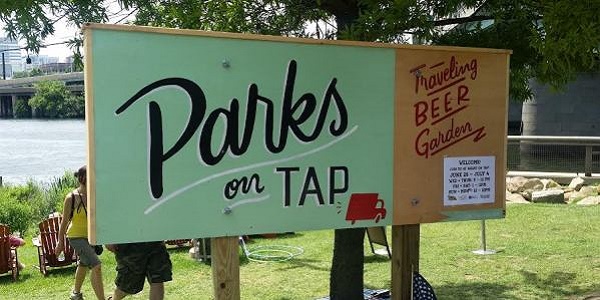 'Traveling Beer Garden In Philadelphia'
Let the beer come to you as you explore different areas of Philadelphia in 2017!
Parks on Tap is a program in partnership with Philadelphia Parks and Recreation, Fairmount Park Conservancy and Avram Hornik of FCM Hospitality, that brings a traveling beer garden from park to park for 20 weeks.
Guests will be able to enjoy local craft beers, usually five on tap, which will be complimented by sliders and snacks from Mitch Prensky of Global Dish Caterers and Scratch Biscuits.
There will also be live music, games, and outdoor yoga from Maha Yoga Studio every Saturday at 12:15 pm (pay what you can). Want to bring your dog? They are welcome, as long as they do their "business" outside of the area.
Get out there and explore many of Philadelphia's beautiful parks while enjoy beer, food and good company!
2017 Parks On Tap Schedule
May 17 – 21 ~

The Azalea Garden

~ located between Boathouse Row and the Philadelphia Museum of Art ~ Wednesday, May 17 ~ 1 pm – 10 pm (special extended hours for opening day)
June 21 – 25

~

Paine's Park

~

 a public skate park along the Schuylkill River Trail near the Philadelphia Museum of Art
August 2 – 6

 ~ 

Aviator Park

at Ben Franklin Parkway & at Lemon Hill
August 9 – 13

 ~

Gorgas Park

~ 

located in Roxborough 

Playing Angels on Kelly Drive &

Aviator Park

at Ben Franklin Parkway.
August 30 – September 4

 ~ 

Cliveden Park

~ located between Germantown and East Mt. Airy ~ Monday, Sept 4 ~ Noon – 10 pm (special extended hours for holiday)
September 13 – 17

 ~

Pretzel Park

~

Located in the heart of Manayunk at the corner of Cresson,
September 27 – October 1

 ~

Powers Park

in Port Richmond ~
Location
Locations Vary Each Weekend  |  See Locations Above Listed Under Schedule
Dates
May 17 – October 1, 2017  |  Schedule Listed Above
Time
Wednesday & Thursday  |  5 pm – 10 pm Friday & Saturday  |  1 pm – 11 pm Sunday  |  12 pm – 10 pm Monday May 29, Tuesday July 4 & Monday September 4  |  12 pm – 10 pm
Cost
Pay-As-You-Go
Web Site
Photos Taken At Schuylkill Banks By Jeff Belonger For MyPhillyAlive
Jeff Belonger has been in the mortgage industry for 19+ years and now wants to do something different. With his experience of blogging and social media, Jeff wants to share all of what Philadelphia has to offer, so he created MyPhillyAlive.com. At MyPhillyAlive, we want to share the excitement that the City of Philadelphia resonates. Sharing the passion within, from the people of Philadelphia. At MyPhillyAlive, we'll be talking about Philadelphia restaurants, fun bars, the city night life, the history of Philadelphia, Philly attractions & events, the arts, sports, and much more. We want people to add their experiences regarding Philadelphia, even if they are from out of town, which can be done on our Facebook fan page as well. www.facebook.com/MyPhillyAlive At the end of the day, we want to be different from the many Philadelphia sites. We want our site to be easy to navigate, while at the same time, we want you to not only find the hot spots, the best things to do in Philadelphia; but those hidden gems within the city. Thanks...
More Posts - Website - Twitter - Facebook - LinkedIn