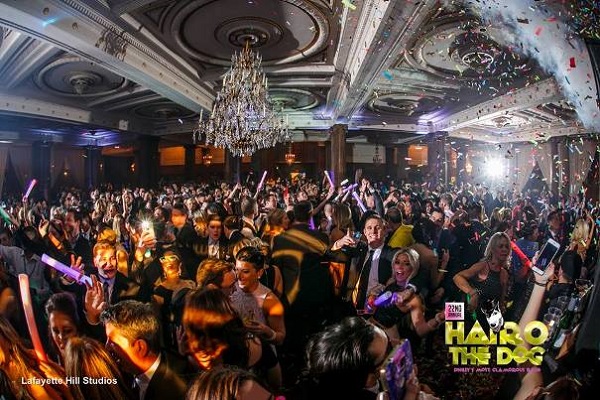 'Party Like It's 1999!'
Did you think New Year's Eve kicks of 2018? Think again!
Welcome to Hair O' The Dog on Saturday, January 20! The 24th annual shindig is a party that you will not want to miss to start off your new year!
Held at the Hilton Philadelphia at Penn's Landing this year, partygoers will enjoy performances by Cash Cash and DJ Ghost.
This year we will celebrate the Chinese New Year "Year O' The Dog" with a stylish inspired celebration.
Enjoy drinks from the top-shelf libations and savory hors d'oeuvres by Hilton Philadelphia's catering.
As the evening barks on, attendees will wag their tails off to a international DJ Casper and DJ Sojo who will be performing an exclusive special dual DJ sets and live performances all night long from 8 pm to 1 am for VIP and Top Dog Bottle Service ticket-holders in the VIP only Shangri La Lounge.
It's Philly's most glamorous event and a see-and-be-seen event where some people go all out with their attire. Will your style make the cut?
This year, a portion of the proceeds will benefit The Center For Autism. Founded in 1955 by renowned child psychiatrist Bertram A. Ruttenberg, M.D., as a nonprofit organization, the Center provides evaluation and treatment services to over 1,500 children and families each year at two Philadelphia locations. The organization also provides training to professionals and organizations throughout the Delaware Valley.
Location
The Hilton Philadelphia at Penn's Landing
201 S Christopher Columbus Blvd.
Philadelphia, PA 19106
Date
January 20, 2018
Time
8:00 pm – 1:00 am
Cost
Different packages starting at $105 per ticket  |  Get Tickets
Web Site
Photo courtesy of Lafayette Studios for Hair O' The Dog
Jeff Belonger has been in the mortgage industry for 19+ years and now wants to do something different. With his experience of blogging and social media, Jeff wants to share all of what Philadelphia has to offer, so he created MyPhillyAlive.com. At MyPhillyAlive, we want to share the excitement that the City of Philadelphia resonates. Sharing the passion within, from the people of Philadelphia. At MyPhillyAlive, we'll be talking about Philadelphia restaurants, fun bars, the city night life, the history of Philadelphia, Philly attractions & events, the arts, sports, and much more. We want people to add their experiences regarding Philadelphia, even if they are from out of town, which can be done on our Facebook fan page as well. www.facebook.com/MyPhillyAlive At the end of the day, we want to be different from the many Philadelphia sites. We want our site to be easy to navigate, while at the same time, we want you to not only find the hot spots, the best things to do in Philadelphia; but those hidden gems within the city. Thanks...
More Posts - Website - Twitter - Facebook - LinkedIn