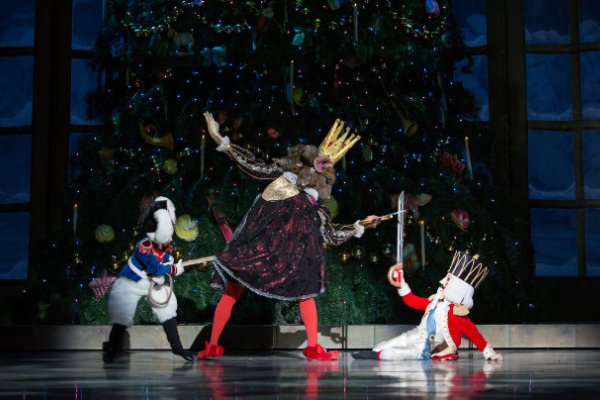 'A Holiday Family Tradition'
Celebrate one Philadelphia's greatest family traditions with The Nutcracker, a Pennsylvania Ballet's performance by George Balanchine at The Academy of Music. Now in its 49th year, you can see this wonderful production December 8 to 31!
Immerse yourself in the beloved tale of The Nutcracker as Marie and her Prince share a magical gift that transports them to a suspenseful battle between soldiers and mice, a glistening forest full of snow, and into the Land of Sweets. Lavish sets and opulent costumes pair with the unforgettable Tchaikovsky score performed live by the Pennsylvania Ballet Orchestra and the celebrated Philadelphia Boys Choir.
Nutcracker Magic
(Saturday, December 09, 2017, 12 pm) Children of all ages will enjoy this enchanted holiday party and luncheon in the Grand Ballroom at the Bellevue followed by a matinee performance of George Balanchine's The Nutcracker®. Families can take part in holiday crafts, learn a dance from the ballet, meet the Mouse King and Sugarplum Fairy, and enjoy a magical feast. We are also excited to announce that we will be welcoming back Organ Grinder Joe Bush and his loveable monkey. Joe is one of only six genuine organ grinders in the country! Tickets from $150, for more information contact Barbara Vogdes at bvogdes@paballet.org.
Tea with the Sugarplum
Fairy at the DoubleTree by Hilton Hotel (Sunday, December 10 at 2:30 pm) Join the star of Philadelphia's most anticipated holiday tradition for a magical afternoon of tea and tutus at the DoubleTree by Hilton Hotel. Enjoy a delectable buffet and photo opportunity with the Sugarplum Fairy and experience a captivating matinee performance of George Balanchine's The Nutcracker® Prices start at $75 and include your performance ticket and buffet. To order, contact Group Sales Manager Arajua Backman at abackman@paballet.org. ~ Details ~
Location
The Academy of Music
240 S Broad St
Philadelphia, PA 19102
Dates
December 8 – 31, 2017
Cost
Varys – Get Tickets (Click on the Date)
Web Site
Photo Courtesy of The Academy of Music
Jeff Belonger has been in the mortgage industry for 19+ years and now wants to do something different. With his experience of blogging and social media, Jeff wants to share all of what Philadelphia has to offer, so he created MyPhillyAlive.com. At MyPhillyAlive, we want to share the excitement that the City of Philadelphia resonates. Sharing the passion within, from the people of Philadelphia. At MyPhillyAlive, we'll be talking about Philadelphia restaurants, fun bars, the city night life, the history of Philadelphia, Philly attractions & events, the arts, sports, and much more. We want people to add their experiences regarding Philadelphia, even if they are from out of town, which can be done on our Facebook fan page as well. www.facebook.com/MyPhillyAlive At the end of the day, we want to be different from the many Philadelphia sites. We want our site to be easy to navigate, while at the same time, we want you to not only find the hot spots, the best things to do in Philadelphia; but those hidden gems within the city. Thanks...
More Posts - Website - Twitter - Facebook - LinkedIn