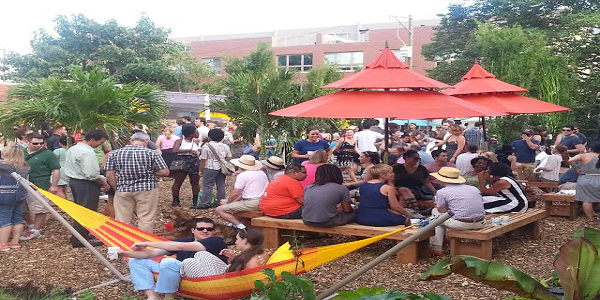 'A Relaxing Temporary Outdoor Escape'
The PHS Pop UP Garden is back in its 7th year!  The Pennsylvania Horticultural Society kicks off their 2017 Pop Up Garden May 9, which is located on 1438 South Street, right next door to the Jamaican Jerk Hut.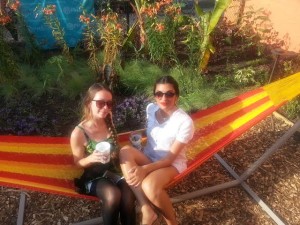 Imagine yourself in a secluded area with an outdoor bar, palm trees, colorful umbrellas with seating and hammocks, as visitors will be able to enjoy tropical cocktails, beer and wine.
Feeling hungry? As part of the Pop Up Garden, enjoy tasty bites from Cantina Los Caballitos and a rotation of Philly's finest food trucks. There will be more than just food and drinks.
Programs and special events will be organized at the garden throughout the spring, the summer and early fall, to include live music. Keep checking back here or at PHS's web site listed below for the full schedule.
New to the Garden: Guest Chef Series
PHS Pop Up Garden at South Street will host a Guest Chef series on the 1st and 3rd Thursday of each month. Expect the likes of DiBruno Brothers, Federal Donuts, Royal Tavern, Hungry Pigeon, La Divisa Meats and other great guests.
Also new to the garden will be an expanded margarita menu with delicious botanical flavors, mint juleps, mojitos and sangria. On especially hot days, look forward to frozen daiquiris and margaritas.
So come on out for some summertime fun, mingle at the PHS Pop Up Garden and enjoy good food and drinks. Proceeds from the Pop Up Garden support PHS City Harvest, which creates green jobs and brings together a network of community gardeners, who grow fresh, healthy produce for families in need.
Tuesday, September 26 – Sunday, October 1, 2017
Dust off your lederhosen or dirndl and get ready to ring in the fall season at the PHS Pop Up Garden at South Street's Oktoberfest. Week long festivities include live entertainment, themed games and your favorite celebratory suds.
9/26: Shinerbock with a live Oompah Band
9/27: Sierra Nevada and Pretzel a tossing competition
9/28: Celebrate Drag-toberfest with Lagunitas
9/29: Sam Adams hosts a stein hoisting competition
9/30: Paulaner and Bratwurst eating contests
10/1: 2SP presents Dog-toberfest costume contest
2017 PHS Pop Up Garden
Location
1438 South Street  |  Next door to the Jamaican Jerk Hut
Philadelphia, PA 19146
Dates
May 9 – October 1, 2017
Hours
Garden Hours Monday – Thursday  |  5:00 pm – 10:00 pm
Friday & Saturday  |  2:00 pm – Midnight
Sunday  |  Noon – 10:00 pm
Cost
Free  |  Pay-As-You-Go
Web Site
Photos By Jeff Belonger for MyPhillyAlive – Taken Summer of 2014
Jeff Belonger has been in the mortgage industry for 19+ years and now wants to do something different. With his experience of blogging and social media, Jeff wants to share all of what Philadelphia has to offer, so he created MyPhillyAlive.com. At MyPhillyAlive, we want to share the excitement that the City of Philadelphia resonates. Sharing the passion within, from the people of Philadelphia. At MyPhillyAlive, we'll be talking about Philadelphia restaurants, fun bars, the city night life, the history of Philadelphia, Philly attractions & events, the arts, sports, and much more. We want people to add their experiences regarding Philadelphia, even if they are from out of town, which can be done on our Facebook fan page as well. www.facebook.com/MyPhillyAlive At the end of the day, we want to be different from the many Philadelphia sites. We want our site to be easy to navigate, while at the same time, we want you to not only find the hot spots, the best things to do in Philadelphia; but those hidden gems within the city. Thanks...
More Posts - Website - Twitter - Facebook - LinkedIn