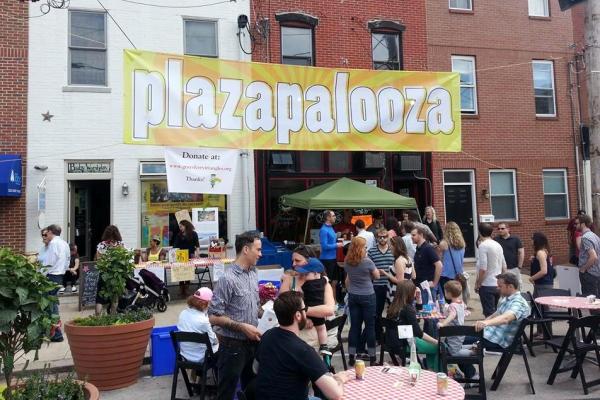 'Fun Times In Graduate Hospital Neighborhood'
Let the good times roll during Plazapalooza on May 20 from noon to 7 pm in Graduate Hospital neighborhood!
Enjoy a casual setting at the Grays Ferry Triangle at 23rd and South Street! There will be food, drinks, live music and games for the whole family.
Such Philly food trucks as Phoebe's BBQ, Samosa Deb and Tacos Don Memo.
There will be live music hosted by Jeff from South Street Sounds and his band, Tall Trees, along with performances by Dreaming Tree, Kamara, New Pony, and Tropical Disease!
Both kids and adults can get into the fun with giant jenga, bean bag toss, kanjam, ladder toss, and more. There will be kids crafts at the Odunde 365 table as well.
You can also enjoy food and drink from Grace Tavern!
On Draft:
Dogfishead Firefly English Pale Ale
21st Amendment Watermelon Wheat
Sam Adams Rebel IPA
Sly Fox Pikeland Pils
This neighborhood gathering is open to the public. It's a great way to see the Graduate Hospital neighborhood and it's neighborhood association, SOSNA.
*Rain date May 21st*
Plazapalooza in Graduate Hospital Neighborhood
Location
Grays Ferry Triangle at 23rd and South Street Graduate Hospital Neighborhood in Philadelphia
Date
May 20, 2017
Time
Noon to 7:00 pm
Cost
FREE – Pay-As-You-Go
Web Site
Jeff Belonger has been in the mortgage industry for 19+ years and now wants to do something different. With his experience of blogging and social media, Jeff wants to share all of what Philadelphia has to offer, so he created MyPhillyAlive.com. At MyPhillyAlive, we want to share the excitement that the City of Philadelphia resonates. Sharing the passion within, from the people of Philadelphia. At MyPhillyAlive, we'll be talking about Philadelphia restaurants, fun bars, the city night life, the history of Philadelphia, Philly attractions & events, the arts, sports, and much more. We want people to add their experiences regarding Philadelphia, even if they are from out of town, which can be done on our Facebook fan page as well. www.facebook.com/MyPhillyAlive At the end of the day, we want to be different from the many Philadelphia sites. We want our site to be easy to navigate, while at the same time, we want you to not only find the hot spots, the best things to do in Philadelphia; but those hidden gems within the city. Thanks...
More Posts - Website - Twitter - Facebook - LinkedIn