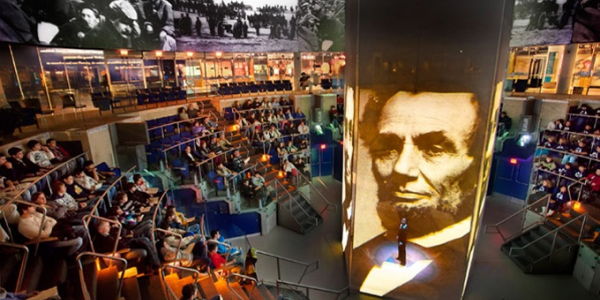 'Exploring the Principals and Ideas of Our Past Presidents'
President's Day, which is on Monday, February 20, starts off with a weekend (February 18-20) of activities and themed events that lead into President's Day itself.
It's a time to explore and honor those Presidents such as George Washington, John Adams, Thomas Jefferson, Abraham Lincoln and other Presidents also known as the Commander-in-chief.
Enjoy free admission to specific museums, special attractions, special tours, themed events and more during President's Day weekend and beyond.
The City of Philadelphia is rich with so much history. Explore such iconic attractions as the Liberty Bell, The President's House, Independence Hall and head on over to the National Constitution Center for specific activities reflecting on our Presidents.
Below is our list of museums and attractions for President's Day Weekend and for President's Day.
February 18 – 20 ~ Visitors to the National Constitution Center will learn about the role of the president and what it takes to be commander-in-chief.  There will be craft activity tables, Presidential Trivia and re-enactors will join the museum throughout the weekend to mingle with guests, pose for photos, sign autographs, and discuss their lives and presidencies. FREE admission on Monday 20, President's Day!  ~ President's Day Weekend at National Constitution Center ~
Free to the public year round, The President's House is an interactive site located next to the Liberty Bell on Independence Mall. It's a great place to learn about those slaves that worked at the President's House for President George Washington and that President John Adams resided here as well.
February 20 ~ FREE – Explore the National Museum of American Jewish History 10 am to 5 pm. Learn how various presidents impacted America and the Jewish population in America during tours, stories, crafts and more. Not only will visitors get to meet George Washington, but you'll also be able to see the original letter penned by George Washington to the Jewish community of Newport, Rhode Island. Details, click here. Monthly Special: The NMAJH is FREE the whole month of February for Black History month. Click Here
February 20 ~ FREE ~ From 9 am to 5 pm, enjoy a museum dedicated to one of our nation's most prominent Founding Fathers through many artifacts, animations and interactive displays! ~ More info ~
February 18 – 20 ~ FREE – From 10 am to 4 pm at the Independence Visitor Center, enjoy different talks by the Park Rangers. 1:00 pm-1:45 pm and 3 pm-3:45 pm.
February 18 – 20 ~ FREE – From 11 am t0 3 pm, storytelling is taking place inside the Visitor's Center!
February 20 ~ This historical museum is open from noon to 5 pm today. Adult pricing is only $7 for an audio tour, and $5 for a self-guided tour and kids are $1 less on both. Audio tours include admission to the house.
February 18 – 20 ~ Pay-What-You-Wish on President's Day, Monday, February 20!  Explore exhibits specifically relating to our nation's leaders, including a collection of original White House China, a Medals of Honor Exhibit, and several beautiful oil paintings.  Plus, enjoy a place that explores the meaning of liberty and shows how it's possible for everyone to "Live Like a Hero."  ~ More Info ~
February 20 ~ All activties/events are free. On February 15, celebrate the 285th birthday of President George Washington with Mrs. Washington, members of the Continental and others. There will be cake, crafts, games, children will be taught drill formations and an opportunity for adults and children to try on 18th century clothing. Full List of Events, Click Here.
February 18 – 20 ~ Go back in time at City Tavern for a special Presidents' Week menu. Chef Walter Staib, who has cooked in the homes of the first five presidents, celebrates President's Week by dedicating a menu to our founding fathers. Their regular menu will be available as well. Details
Main Photo Courtesy of National Constitution Center
Jeff Belonger has been in the mortgage industry for 19+ years and now wants to do something different. With his experience of blogging and social media, Jeff wants to share all of what Philadelphia has to offer, so he created MyPhillyAlive.com. At MyPhillyAlive, we want to share the excitement that the City of Philadelphia resonates. Sharing the passion within, from the people of Philadelphia. At MyPhillyAlive, we'll be talking about Philadelphia restaurants, fun bars, the city night life, the history of Philadelphia, Philly attractions & events, the arts, sports, and much more. We want people to add their experiences regarding Philadelphia, even if they are from out of town, which can be done on our Facebook fan page as well. www.facebook.com/MyPhillyAlive At the end of the day, we want to be different from the many Philadelphia sites. We want our site to be easy to navigate, while at the same time, we want you to not only find the hot spots, the best things to do in Philadelphia; but those hidden gems within the city. Thanks...
More Posts - Website - Twitter - Facebook - LinkedIn