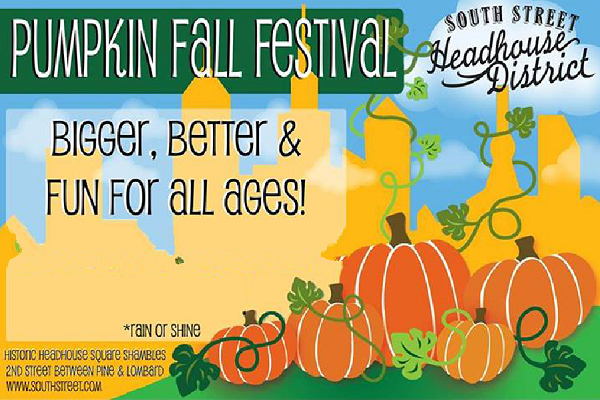 'Free Hayrides, Straw Bale Maze, Live Music ~ Oh My!'
The South Street Headhouse District hosts its seventh-annual PumpkinFest underneath the historic Headhouse Square Shambles on Saturday, October 31, from noon to 5 pm.
Families are invited to get into the Halloween spirit and enjoy all that fall has to offer with face painting, straw bale maze, circus performances, live music, hayrides, and more. District businesses will open their doors for trick or treating from 3:00 pm to 5:00 pm for those children ages 12 and under. 
Love good entertainment; then be prepared to be impressed by circus performances by Philadelphia School of Circus (Shows at 1:00 pm, 2:00 pm and 3:00 pm) and Thriller lessons at 1:00 pm from Society Hill Dance Academy. 
New this year, the football challenge competitive game where players pull bungee-style against each other while trying to score a touchdown! 
Attention Shoppers! Support the businesses of the South Street Headhouse District, and eat, drink, and shop after the family activities.
So come out and enjoy this family fun packed day at the fifth-annual Pumpkin Fall Festival at the historic Headhouse Square Shambles in true fall festival style.
7th Annual PumpkinFest
Location
Headhouse Square Shambles, 2nd and Lombard Streets in the Headhouse District
Philadelphia, PA
Date
October 31, 2015
Time
Noon – 5:00 pm
Cost
FREE
Web Site
Jeff Belonger has been in the mortgage industry for 19+ years and now wants to do something different. With his experience of blogging and social media, Jeff wants to share all of what Philadelphia has to offer, so he created MyPhillyAlive.com. At MyPhillyAlive, we want to share the excitement that the City of Philadelphia resonates. Sharing the passion within, from the people of Philadelphia. At MyPhillyAlive, we'll be talking about Philadelphia restaurants, fun bars, the city night life, the history of Philadelphia, Philly attractions & events, the arts, sports, and much more. We want people to add their experiences regarding Philadelphia, even if they are from out of town, which can be done on our Facebook fan page as well. www.facebook.com/MyPhillyAlive At the end of the day, we want to be different from the many Philadelphia sites. We want our site to be easy to navigate, while at the same time, we want you to not only find the hot spots, the best things to do in Philadelphia; but those hidden gems within the city. Thanks...
More Posts - Website - Twitter - Facebook - LinkedIn