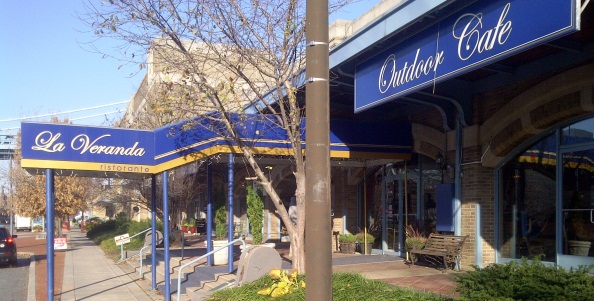 Ristorante La Veranda – Philadelphia Restaurants in Penn's Landing
The La Veranda restaurant in Philadelphia is a lovely upscale Italian restaurant down by the water front at Penn's Landing. While enjoying some breathtaking views of the water front, the intimate restaurant serves exquisite Northern Italian style cuisines.
The La Veranda Experience
Walking into the La Veranda, one would think that you would be eating with royalty, given the elegant presentation of the bar and formal dining area. Don't be fooled by the extravagant layout, thinking that it might cost you $100 per person, not unless your meal would consist of more than a few drinks. The prices range from $15 – $40 per meal with the average price range per meal being around $28 – $32, not to include desert.
I have had the pleasure to have eaten here a few times. Once having the Filetto Di Red Snapper Alla Livornese O Alla Griglia and another time, the Surf and Turf. I am not a huge fish person, unless it comes to sushi, but both meals were excellent. I have had Red Snapper at a few restaurants throughout the City of Philadelphia, and this was by far the best, done to perfection. The surf and turf was to die for. The 8 oz filet, cooked on a woodfire grill, was done to my liking and the lobster tail was succulent in taste.
What does La Verande have to offer?
The Ristorante La Verande is an excellent place for that romantic evening, being very intimate, with some romantic views of the water. The restaurant not only has a formal dinning area, but offers three banquet rooms for those special occasions or parties. The restaurant also features over 150 different types of the finest domestic and imported wines. Keep in mind, depending on the night, reservations would be recommended.
Location
31 North Columbus Boulevard
Pier 3 Penn's Landing
Philadelphia, PA 19106
Hours
Monday - Thursday :     11:30 am - 10:00 pm
Friday – Saturday :        11:30 am – 11:30 pm
Sunday :                         1:00 pm - 10:00 pm
Phone
(215) 351-1898
Web Site
La Veranda – Restaurants in Philadelphia
Related Articles on Penn's Landing Restaurants in Philadelphia
View Larger Map
Jeff Belonger has been in the mortgage industry for 19+ years and now wants to do something different. With his experience of blogging and social media, Jeff wants to share all of what Philadelphia has to offer, so he created MyPhillyAlive.com. At MyPhillyAlive, we want to share the excitement that the City of Philadelphia resonates. Sharing the passion within, from the people of Philadelphia. At MyPhillyAlive, we'll be talking about Philadelphia restaurants, fun bars, the city night life, the history of Philadelphia, Philly attractions & events, the arts, sports, and much more. We want people to add their experiences regarding Philadelphia, even if they are from out of town, which can be done on our Facebook fan page as well. www.facebook.com/MyPhillyAlive At the end of the day, we want to be different from the many Philadelphia sites. We want our site to be easy to navigate, while at the same time, we want you to not only find the hot spots, the best things to do in Philadelphia; but those hidden gems within the city. Thanks...
More Posts - Website - Twitter - Facebook - LinkedIn