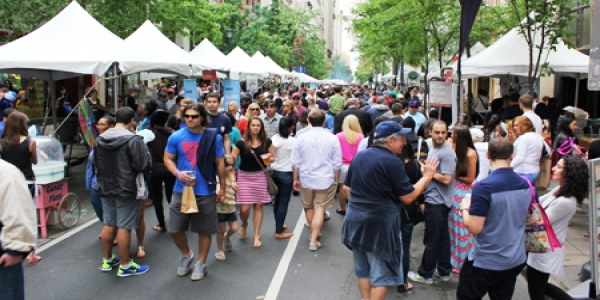 'Shop, Eat & Have Fun!'
Enter the shopping zone!
The Rittenhouse Row Spring Festival held on May 20, one of Philadelphia's more popular spring festivals, will attract more than 50,000 people from across the region.
The festival takes over a part of Walnut Street, between Broad and 19th streets and 17th and 18th from Sansom to Locust, allowing pedestrians to eat, drink, and shop till they drop.
Enjoy a day of arts, fantastic food, fashion and entertainment. There will be more than 40 restaurants that will set up along the sidewalks, 100 + booths selling art, clothing and Philly food trucks. There will also be family fun with interactive games and giveaways at Capital One 360 Cafe, a photo booth, free wine sampling, live music throughout and more.
Bring those comfortable walking shoes and enjoy the Rittenhouse Row Spring Festival! Even enjoy Philadelphia magazine's family area during the festival, featuring kid-friendly activities and giveaways, sweet treats and prizes for the parents!
If you can't wait for the super sized festival on Saturday, May 20, snag tickets to the Rittenhouse Row Spring Festival Preview Party at The Rittenhouse Hotel on Wednesday, May 3 from 7 to 9:30 pm.
Rittenhouse Row Spring Festival
Location
Walnut Street from Broad to 19th Streets and 17th & 18th from Sansom to Locust
Date
May 20, 2017
Time
Noon – 5:00 pm  |  Rain or Shine
Cost
Free To The Public  |  Pay-As-You-Go
Web Site
Rittenhouse Row Spring Festival
Jeff Belonger has been in the mortgage industry for 19+ years and now wants to do something different. With his experience of blogging and social media, Jeff wants to share all of what Philadelphia has to offer, so he created MyPhillyAlive.com. At MyPhillyAlive, we want to share the excitement that the City of Philadelphia resonates. Sharing the passion within, from the people of Philadelphia. At MyPhillyAlive, we'll be talking about Philadelphia restaurants, fun bars, the city night life, the history of Philadelphia, Philly attractions & events, the arts, sports, and much more. We want people to add their experiences regarding Philadelphia, even if they are from out of town, which can be done on our Facebook fan page as well. www.facebook.com/MyPhillyAlive At the end of the day, we want to be different from the many Philadelphia sites. We want our site to be easy to navigate, while at the same time, we want you to not only find the hot spots, the best things to do in Philadelphia; but those hidden gems within the city. Thanks...
More Posts - Website - Twitter - Facebook - LinkedIn