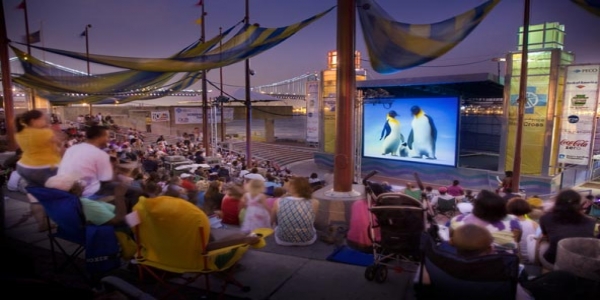 'Family Time Under The Stars With Free Movies'
For some of you, remember those drive-in movies theaters? How about a large outdoor theater while watching a movie under the stars.
That's what we have with "Screenings Under the Stars" at the Great Plaza, taking place in Penn's Landing.
Every Thursday night in July and August, come watch a different popular film that will be displayed on the big screen for free. Yes, you heard us right, for free. Come with friends, family or even maybe invite your whole neighborhood. The more, the merrier. Don't forget to pack some treats to snack on while watching the movie.
The movies will start around dusk, approximately 8 pm to 8: 30 pm. Hint: Come early, because prior to the start of each screening there will be themed activities, coordinated with the theme of that week's film.
Just think, what could be more fun than watching a movie at the Delaware River Water Front. Lights, Movie, Action!
Scheduled Movies 2017
July 6

: Captain America: Civil War

July 13

: La La Land

July 20

: Star Wars: Rogue One

July 27

: Purple Rain

August 3

: Magnificent Seven

August 10

: Kong: Skull Island

August 17

: Beauty and the Beast

August 24

: The Lego Batman Movie

August 31

: Sing
Location
101 S. Christopher Columbus Blvd
The Great Plaza at Penn's Landing
Philadelphia, PA  19106
Dates
Thursday's in July 6 to August 31, 2017
Hours
Screenings begin at dusk (between 8:00 pm – 8:30 pm)
Cost
FREE
Web Site
Picture courtesy of G.Widman for GPTMC
Jeff Belonger has been in the mortgage industry for 19+ years and now wants to do something different. With his experience of blogging and social media, Jeff wants to share all of what Philadelphia has to offer, so he created MyPhillyAlive.com. At MyPhillyAlive, we want to share the excitement that the City of Philadelphia resonates. Sharing the passion within, from the people of Philadelphia. At MyPhillyAlive, we'll be talking about Philadelphia restaurants, fun bars, the city night life, the history of Philadelphia, Philly attractions & events, the arts, sports, and much more. We want people to add their experiences regarding Philadelphia, even if they are from out of town, which can be done on our Facebook fan page as well. www.facebook.com/MyPhillyAlive At the end of the day, we want to be different from the many Philadelphia sites. We want our site to be easy to navigate, while at the same time, we want you to not only find the hot spots, the best things to do in Philadelphia; but those hidden gems within the city. Thanks...
More Posts - Website - Twitter - Facebook - LinkedIn