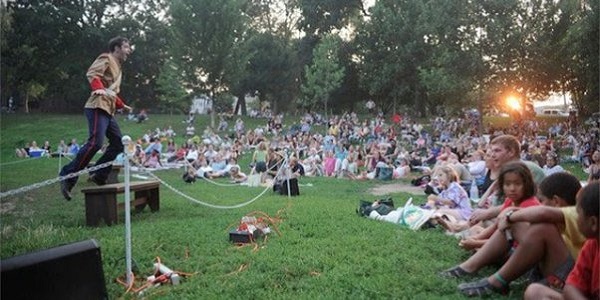 'Enjoy A Free Shakespeare Performance In Clark Park'
Visit West Philly's Clark Park and enjoy Shakespeare in the Park July 26 to 30!
For more than a decade, hundreds of Philadelphian's make their way to Clark Park to watch professional actors recreate the works of Shakespeare.
This year, enjoy Shakespeare's timely political drama Coriolanus. For five nights, Shakespeare's greatest political tragedy of manipulation and revenge comes to life. In this story of revenge and unrest, recovering from one war and bracing for another, the people turn to their hero: Coriolanus.
Join Philadelphia's finest actors and Barrymore award winner Charlotte Northeast who leads this all-female cast of warrior women along with a Chorus of Philadelphians doing battle as the citizens of Rome. 
The shows are free, although donations are accepted. Considering that some of the performances attract up to 1,000 people, we recommend that you get there early. 
FYI - In the case of rain, performances will be held at the Harold Prince Theater at the Annenberg Center for the Performing Arts at 3680 Walnut Street.
Location
4398 Chester Ave
Philadelphia, PA 19104
Dates
July 26 – 30, 2017
Time
Starting at 7:00 pm each night
Cost
FREE
Web Site
Jeff Belonger has been in the mortgage industry for 19+ years and now wants to do something different. With his experience of blogging and social media, Jeff wants to share all of what Philadelphia has to offer, so he created MyPhillyAlive.com. At MyPhillyAlive, we want to share the excitement that the City of Philadelphia resonates. Sharing the passion within, from the people of Philadelphia. At MyPhillyAlive, we'll be talking about Philadelphia restaurants, fun bars, the city night life, the history of Philadelphia, Philly attractions & events, the arts, sports, and much more. We want people to add their experiences regarding Philadelphia, even if they are from out of town, which can be done on our Facebook fan page as well. www.facebook.com/MyPhillyAlive At the end of the day, we want to be different from the many Philadelphia sites. We want our site to be easy to navigate, while at the same time, we want you to not only find the hot spots, the best things to do in Philadelphia; but those hidden gems within the city. Thanks...
More Posts - Website - Twitter - Facebook - LinkedIn