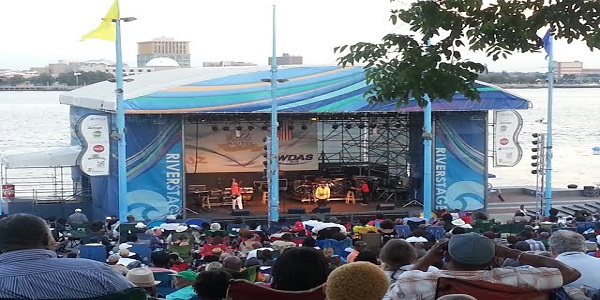 'Sit Back, Relax, and Listen to Free Jazz'
Live music will echo throughout at the Great Plaza at Penn's Landing every Friday night in the month of August.
Enjoy smooth jazz, which begins at 7:30 pm and is totally free. The Smooth Jazz Summer Nights series plays host to nationally-renowned jazz musicians. You listen to some of the country's best smooth jazz artists as you peer into the riverfront's background while the sun sets near the end of the concert.
Come one night or come every Friday night in August. You'll be sure to have a great time with family and friends. Just remember to bring your own lawn chair or sit on the pavilion's steps.
Below is a list of the jazz musicians throughout August.
August 2017 Schedule
August 4 ~  Featuring FourPlay
August 11 ~ Featuring Peter White
August 18 ~ Featuring Grace Kelly
August 25 ~ Featuring Lin Roundtree
Location
Great Plaza at Penn's Landing  |  Columbus Boulevard & Chestnut Street
Dates
August 4, 12, 18 & 25 in 2017
Time
7:30 pm – 11:00 pm
Cost
FREE
Web Site
Jeff Belonger has been in the mortgage industry for 19+ years and now wants to do something different. With his experience of blogging and social media, Jeff wants to share all of what Philadelphia has to offer, so he created MyPhillyAlive.com. At MyPhillyAlive, we want to share the excitement that the City of Philadelphia resonates. Sharing the passion within, from the people of Philadelphia. At MyPhillyAlive, we'll be talking about Philadelphia restaurants, fun bars, the city night life, the history of Philadelphia, Philly attractions & events, the arts, sports, and much more. We want people to add their experiences regarding Philadelphia, even if they are from out of town, which can be done on our Facebook fan page as well. www.facebook.com/MyPhillyAlive At the end of the day, we want to be different from the many Philadelphia sites. We want our site to be easy to navigate, while at the same time, we want you to not only find the hot spots, the best things to do in Philadelphia; but those hidden gems within the city. Thanks...
More Posts - Website - Twitter - Facebook - LinkedIn