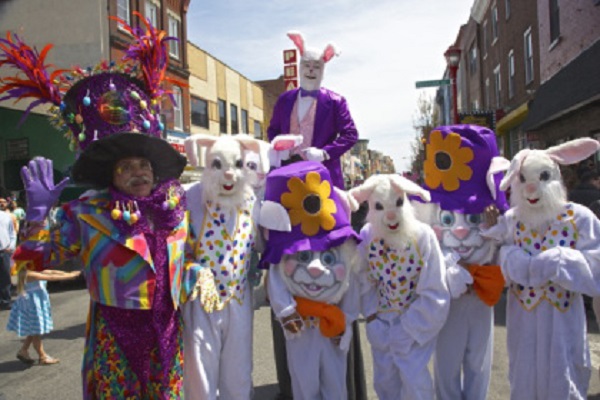 'Hop On Down South Street With The Easter Crew!'
Hop on over to the 86th Annual Easter Promenade on April 16, a popular Easter tradition in the South Street Headhouse District.
This free family event, which begins with a parade at 12:30 pm at the corner of Passyunk Avenue and South Street, and ends at 2nd and South Streets, will be one that you won't want to miss!
Headhouse District's Easter Promenade's Experience and Atmosphere
Master of Ceremonies Henri David will lead the parade down South Street with his pink and white furry friends such as Mr. and Mrs. Peter Cottontail, the Bunny Hop and more.
Guests will be able to enjoy Easter treats, live music from the Philadelphia Freedom Band, personal photos with the Easter Bunny himself, a best dressed contest with several categories and more.
The best dressed categories are as follows:
Best Dressed Little Girl (2-5 years)
Best Dressed Little Boy (2-5 years)
Best Dressed Young Girl (6-12 years)
Best Dressed Young Boy  (6-12 years)
Best Dressed Teen Girl (13-19 years)
Best Dressed Teen Boy (13-19 years)
Best Dressed Woman (20+ years)
Best Dressed Man (20+ years)
Best Dressed Family
Best Dressed Pet
Best Easter Bonnet
Best South Street Razzle Dazzle
Don't forget that the local restaurants and shops will be open before and after the Easter Promenade, many of which will be offering Easter brunches and dinner meals. And the celebrity judges will be announcing the winners of the best dressed categories prior to 2 pm.
Location
South Street Headhouse District
Parade Starts at the corner of Passyunk Avenue & South Street & ends at 2nd & South Streets
Date
April 16, 2017
Time
12:30 pm – 2:00 pm
Cost
Free
Phone
(215) 413-3713
Web Site
Jeff Belonger has been in the mortgage industry for 19+ years and now wants to do something different. With his experience of blogging and social media, Jeff wants to share all of what Philadelphia has to offer, so he created MyPhillyAlive.com. At MyPhillyAlive, we want to share the excitement that the City of Philadelphia resonates. Sharing the passion within, from the people of Philadelphia. At MyPhillyAlive, we'll be talking about Philadelphia restaurants, fun bars, the city night life, the history of Philadelphia, Philly attractions & events, the arts, sports, and much more. We want people to add their experiences regarding Philadelphia, even if they are from out of town, which can be done on our Facebook fan page as well. www.facebook.com/MyPhillyAlive At the end of the day, we want to be different from the many Philadelphia sites. We want our site to be easy to navigate, while at the same time, we want you to not only find the hot spots, the best things to do in Philadelphia; but those hidden gems within the city. Thanks...
More Posts - Website - Twitter - Facebook - LinkedIn