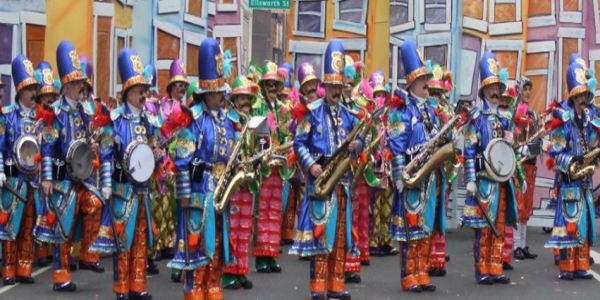 'Family Fun and the Mummers Strut with the Mummers String Bands' 
The Mummers in Philadelphia is a long standing tradition in which the History of the Mummers date back to the mid 1800′s. The first official parade was held January 1, 1901. Imagine that!
Many Philadelphians look forward to the Mummers Parade which takes place on New Year's Day. If you wanted more Mummery, there was the Show of Shows, which use to take place near the end of February every year. But that has been cancelled since 2013. Other than a few Mummer's productions throughout the year here and there, most of you would have to wait until New Year's Day of the following year.
Do you believe in Santa?
Just think of it as Christmas in July, because here is your chance to catch a Mummers String Band once every Thursday evening from May through September starting at 8 pm.  The Mummers Concert is free and is held at the Mummers Museum in South Philly.
This old fashion block party brings family and friends together with lots of rich Mummers' history. Know the Mummers strut? Here is your chance to strut with the Mummers as they play away.
As a reminder, you will want to bring your own lawn chairs and just sit back and relax. Refreshments, such as soft pretzels, hot dogs and soda, will be served starting at 7:30 pm.
Who is your favorite Mummers String Band? Please share with us in the comments below. Come out for some fun and excitement and relive the Mummers! FYI – If there is bad weather, the concert will be held inside the Mummers Museum.
Location
Mummers Museum
1100 South 2nd Street (2nd St at Washington Ave)
Philadelphia, PA 19147
Dates & Time
Every Thursday Evening from May through September  |  May 18 – September 21, 2017   |  Starts at 8:00 pm
Summer Concert Schedule
May 18

- Duffy String Band  

May 25

–

Fralinger String Band 

June 1

- Aqua String Band

June 8

- Uptown 

String Band 

June 15

- 

South Philadelphia String Band

June 22

- 

Greater Overbrook String Band 

June 29

- 

Quaker City String Band

July 13

- 

Avalon String Band 

July 20

- 

Broomall String Band

July 27

- 

Greater Kensington String Band

August 3

- 

 Hegeman String Band

August 10

- 

 Gloucester City String Band 

August 17

- 

Ferko String Band

August 24

–

Trilby String Band 

August 31

- Woodland 

String Band

September 7

- 

Polish American String Band

September 14

- 

Durning String Band

September 21

– Hardley Ables String Band
You can visit our facebook page for weekly updates: MyPhillyAlive on facebook – You can also get these updates on Twitter at @MyPhillyAlive or by subscribing to our Things to do in Philadelphia posts by going to our web site: MyPhillyAlive – or just visit our site every Friday for the post titled, Things to do in Philadelphia which will highlight the next band for the following week.
Web Site
Jeff Belonger has been in the mortgage industry for 19+ years and now wants to do something different. With his experience of blogging and social media, Jeff wants to share all of what Philadelphia has to offer, so he created MyPhillyAlive.com. At MyPhillyAlive, we want to share the excitement that the City of Philadelphia resonates. Sharing the passion within, from the people of Philadelphia. At MyPhillyAlive, we'll be talking about Philadelphia restaurants, fun bars, the city night life, the history of Philadelphia, Philly attractions & events, the arts, sports, and much more. We want people to add their experiences regarding Philadelphia, even if they are from out of town, which can be done on our Facebook fan page as well. www.facebook.com/MyPhillyAlive At the end of the day, we want to be different from the many Philadelphia sites. We want our site to be easy to navigate, while at the same time, we want you to not only find the hot spots, the best things to do in Philadelphia; but those hidden gems within the city. Thanks...
More Posts - Website - Twitter - Facebook - LinkedIn