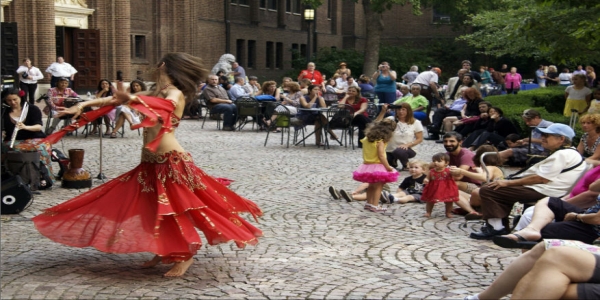 'Relaxing Musical Nights at Penn Museum'
What a great way to break up your work week by experiencing soothing international cultural live music on Wednesday nights during the Summer Nights music series held at the Penn Museum. This exuberant musical series begins June 21 and ends September 06, 2017.
Get to experience eclectic live music in a laid-back fun atmosphere, to where you can hang out on chairs, benches, stage-front seating, the lawn or just mingle with others while the music plays in the background at the museum's Stoner Courtyard.
Throughout the evening, attendees can enjoy drinks and light fair from the on-site Pepper Mill Café. Drinks will include a special cocktail of the week, beer, and non-alcoholic beverages. If it does rain, the event will be held inside. Parking is available in Garage 7, adjacent to the Museum. Attendees are welcome to bring their own picnics, blankets, chairs, and even dogs (but no alcohol).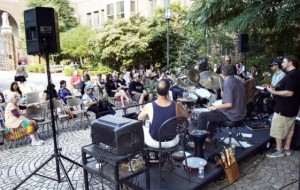 This years all-embracing and diversified line-up from all over the world includes Creole Zydeco, Calypso, '20s Jazz, Middle Eastern folk, and more. The line-up features: The Mid East Ensemble (June 21), West Philadelphia Orchestra (June 28), Red Hot Ramblers (July 5), Zydeco-A-Go-Go (July 12), Philadelphia Songwriters Project (July 19), Conjunto Philadelphia (July 26), Animus (August 2), Ensemble Novo (August 9), The Kyle Lacy Band (August 16), Trinidelphia (August 23), Gretchen Elise Band (August 30), and Farah Siraj (September 6).
Added Bonus: General admission is just $10 (and includes Museum admission donation & free for PennCard holders and Museum members & children under 6). The Museum galleries stay open to the public until 8:00 pm on Wednesday nights. This allows you to take in a wide range of art and archaeological exhibitions.
Summer Nights at Penn Museum
Location
Penn Museum - Museum's Outdoor Stoner Courtyard
3260 South St (University City)
Philadelphia, PA 19104
Dates & Hours
Wednesday Nights  |  June 21 – September 06, 2017  |  5:00 pm – 8:00 pm
Cost
$10 & gets you admission into the museum  |  Free for Museum members, PennCard holders, Penn Medicine & CHOP employees and Children under 6 years of age  
Phone
(215) 898-4000
Web Site
All photos courtesy of Penn Museum
View Larger Map
Jeff Belonger has been in the mortgage industry for 19+ years and now wants to do something different. With his experience of blogging and social media, Jeff wants to share all of what Philadelphia has to offer, so he created MyPhillyAlive.com. At MyPhillyAlive, we want to share the excitement that the City of Philadelphia resonates. Sharing the passion within, from the people of Philadelphia. At MyPhillyAlive, we'll be talking about Philadelphia restaurants, fun bars, the city night life, the history of Philadelphia, Philly attractions & events, the arts, sports, and much more. We want people to add their experiences regarding Philadelphia, even if they are from out of town, which can be done on our Facebook fan page as well. www.facebook.com/MyPhillyAlive At the end of the day, we want to be different from the many Philadelphia sites. We want our site to be easy to navigate, while at the same time, we want you to not only find the hot spots, the best things to do in Philadelphia; but those hidden gems within the city. Thanks...
More Posts - Website - Twitter - Facebook - LinkedIn