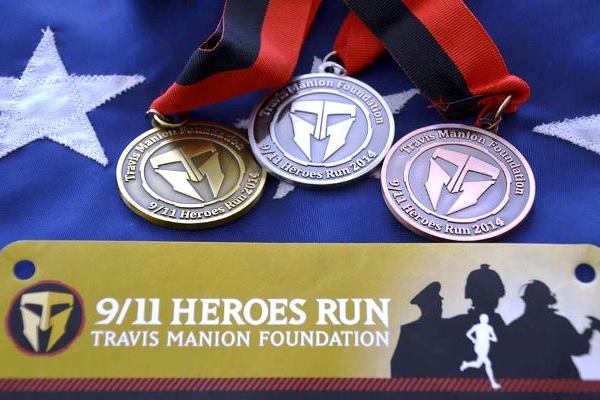 'If Not Me, Then Who…."
UPDATE 9/5/17 – Last chance to register online is at 11:59 pm 9/6/17 ~ Click Here To Register or Volunteer - FYI – You can still register in person the day of the race!
Calling all runners for a worthy cause.
The Travis Manion Foundation will host the Philadelphia 9/11 Heroes 5k race at the Philadelphia Navy Yard on September 9, 2017.
The 9/11 Heroes Run activates and unites communities to honor the sacrifices of those heroes from September 11th and the wars since, to include veterans, active duty, first responders, and families of the fallen. The 9/11 Heroes Run 5K +1M fun run/walk welcomes runners and walkers of all levels and of all ages, volunteers, friends, and family. It is not about fitness level or experience but about activating, uniting, and honoring our heroes. 
This years race is organized by Faye Hellman who serves as the local volunteer race director. The race will start at 9 am and will be preceded by a 9/11 memorial ceremony.
The speakers at this year's race are Travis Manion Foundation's President Ryan Manion, Philadelphia Police Department Deputy Commissioner Joe Sullivan, and Army Veteran and Philadelphia City Councilman David Oh.
The event will include several static displays from local military units, the Philadelphia Fire Department, and the Philadelphia Police Department.
All proceeds from the Philadelphia 9/11 Heroes Run will benefit the Travis Manion Foundation.
Travis Manion Foundation
Founded in honor of the fallen hero 1st Lt. Travis Manion, a Marine who was killed as he selflessly protected his battalion, the organization is dedicated to assisting veterans and families of the fallen. The foundation aids their constituents in all steps of their personal journeys, offering unique opportunities to achieve their personal and professional goals.
9/11 Heroes Run Information
To register for the Philly 9/11 Heroes Run, click here.
For those that want to volunteer, click here. (Scroll down for the volunteer box)
For those registering in advance or who want to register in person, packet pick-up and registration will be Thursday, September 7 from 11 am to 6 pm at TMF's Regional Office (601) Walnut St 12th Floor – use 7th St entrance) and Friday, September 8 from 11 am to 7 pm at Philadelphia Runner (1601 Sansom St). Same day registration and packet pick-up will be held at the race site from 7 am to 8:30 am.
How else can you help? Please send the link to this article to your running friends, running groups, all branches of the military, and anyone else who might be interested. Help spread the word! Thx
We hope to see many of you there!
Location
The Navy Yard
4747 S Broad St
Philadelphia, PA 19112
Date
September 9, 2017
Time
7:00 am – 8:30 am  |  Same Day Registration & packet pick-up
9:00 am  | Start of the 5k Race
9:05 am  |  Start of 1 Mile Fun Run/Walk
Cost
$29.25  | Active Duty or First Responder'
$32.50  |  Individual
Sign Up For 9/11 Heroes 5-k Run In Philly
Web Site
9/11 Heroes Run Philly Instagram
Jeff Belonger has been in the mortgage industry for 19+ years and now wants to do something different. With his experience of blogging and social media, Jeff wants to share all of what Philadelphia has to offer, so he created MyPhillyAlive.com. At MyPhillyAlive, we want to share the excitement that the City of Philadelphia resonates. Sharing the passion within, from the people of Philadelphia. At MyPhillyAlive, we'll be talking about Philadelphia restaurants, fun bars, the city night life, the history of Philadelphia, Philly attractions & events, the arts, sports, and much more. We want people to add their experiences regarding Philadelphia, even if they are from out of town, which can be done on our Facebook fan page as well. www.facebook.com/MyPhillyAlive At the end of the day, we want to be different from the many Philadelphia sites. We want our site to be easy to navigate, while at the same time, we want you to not only find the hot spots, the best things to do in Philadelphia; but those hidden gems within the city. Thanks...
More Posts - Website - Twitter - Facebook - LinkedIn