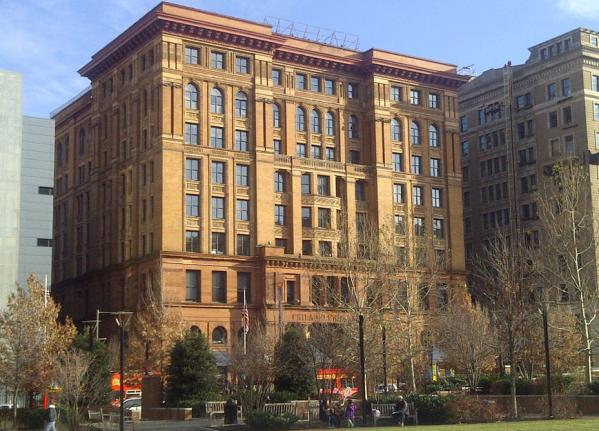 "Lunch at the Historical Bourse Building"
The Bourse Building is a strong architectural Victorian building adjacent to Independence Mall, which is located in the Independence National Historical Park area, blocks from many iconic symbols in the city of Philadelphia. Such symbols as the Liberty Bell, Independence Hall to where the Declaration of Independence was adopted, and Carpenters' Hall.
The Bourse Building History
The Philadelphia Bourse Building was the first commodities exchange in the United States which was founded in 1891 by George E. Bartol. Bartol was a grain and commodities exporter, who modeled the building after the Bourse in Hamburg, Germany. This was one of the first steel-framed buildings to be constructed and was completed in 1895.
The building stopped functioning as a commodities exchange in the 1960′s and continued to serve as an office building until it was sold in 1979. It was bought by the Kaiserman Company, Inc. who renamed it "The Bourse", adapting it as a retail and office complex. After many renovations, the internal area was approximately 280,00 square feet.
Celebrating over 100 years as a center for commerce and trade, The Bourse is listed on the National Register of Historic Places. Today, it is one of Philadelphia's leading commercial complexes, home to 24 retail and food service stores that are tourist-oriented and to more than 50 businesses.
The Bourse Building Experience & Atmosphere
Are you visiting Philadelphia and looking to pick up a souvenir for your trip? There are several gift shops on the premise. There is even one of the major tour companies on site, the Philadelphia Sightseeing Tours Company, which has a souvenir store inside and their tour sign-up right outside the building.
Housing a food court and specialty shops, the Bourse offers a voucher program for school groups, making lunch at The Bourse affordable for kids and other tour groups. There is also a box lunch option, allowing visitors, especially large groups, to call vendors ahead of time to place their order for a specific pick-up time. You can work with a Bourse food court vendor who will help you plan the right meal, in which some of them will offer special group discounts. Click here for more information on the vendors.
Feeling hungry while touring Historic Philadelphia or just need to rest those feet of yours, make a stop at The Bourse. Get a chance, explore the historic building and don't forget to pick up a souvenir at the many shops.
Location
21 S. 5th Street
Philadelphia, PA 19106
Hours
Monday – Saturday  |  10:00 am – 6:00 pm  |  Year Round
Sundays  |  11:00 am – 5:00 pm  |  March through November only
Phone
(215) 625-0300
Web Site
View Larger Map
Jeff Belonger has been in the mortgage industry for 19+ years and now wants to do something different. With his experience of blogging and social media, Jeff wants to share all of what Philadelphia has to offer, so he created MyPhillyAlive.com. At MyPhillyAlive, we want to share the excitement that the City of Philadelphia resonates. Sharing the passion within, from the people of Philadelphia. At MyPhillyAlive, we'll be talking about Philadelphia restaurants, fun bars, the city night life, the history of Philadelphia, Philly attractions & events, the arts, sports, and much more. We want people to add their experiences regarding Philadelphia, even if they are from out of town, which can be done on our Facebook fan page as well. www.facebook.com/MyPhillyAlive At the end of the day, we want to be different from the many Philadelphia sites. We want our site to be easy to navigate, while at the same time, we want you to not only find the hot spots, the best things to do in Philadelphia; but those hidden gems within the city. Thanks...
More Posts - Website - Twitter - Facebook - LinkedIn