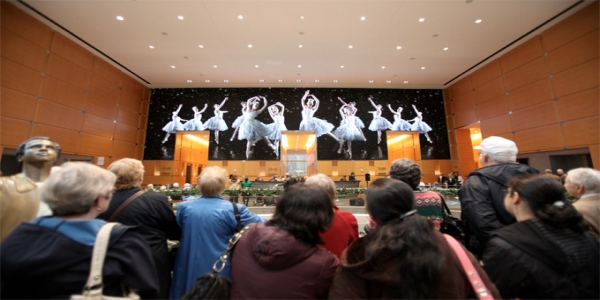 'A Unique Philadelphia Holiday High-Tech Show'
What are the holidays without stopping at the Comast building to take a peak at the holiday show.
Since its debut in 2008, more than one million people have seen the show. Using cutting-edge technology, you get to explore stunning holiday imagery and music. This all takes place on the 83' x 25' Comcast video wall in the Comcast Center lobby, which is the world's largest four-millimeter LED screen with incredible resolution that's five times that of an HDTV.
Experience a magical sleigh ride from the Philadelphia countryside to high above the city skyline. You'll enjoy a musical journey featuring classic family favorites like Jingle Bell Rock, The Twelve Days of Christmas, and your favorite scenes from The Nutcracker, which will be beautifully performed by the Pennsylvania Ballet that will captivate viewers.
This year's Holiday Spectacular, visitors will be greeted by a dozen animatronic snowmen throughout the lobby and the video will include a brand-new Carol of the Bells animation featuring the sounds of 64-piece orchestra.
While watching the show itself, you'll hear a wintertime soundtrack in the background which includes the majestic sounds of a 64-piece orchestra, the harmony of the Commonwealth Youth Choir's Keystone State Boy choir and Pennsylvania Girl choir and more.
Bring the family for an experience that can be treasured for life. Start a new family holiday tradition, something that could be passed onto generation after generation.
The Comcast Holiday Spectacular will take place from November 23 to December 31, daily from 10 am to 8 pm and on New Year's Day from 10 am to 6 pm for 15 minute shows at the top of each hour. Shows are not presented on weekdays at 5:00 pm.
Want to share your favorite photos and stories from the Comcast Holiday Spectacular, then use the hashtag #HolidaySpectacular with @Comcast while on Twitter.
Location
Comcast Center
1701 John F Kennedy Blvd.
Philadelphia, PA
Dates
November 23, 2017 –  January 1, 2018
Times
Shown Daily  |  10:00 am – 8:00 pm from Nov 23 to Dec 31  |  10:00 am – 6:00 pm on New Year's Day
15-minute shows at the top of each other  |  Shows are not presented on weekdays at 5:00 pm
Cost
Free
View Larger Map
Jeff Belonger has been in the mortgage industry for 19+ years and now wants to do something different. With his experience of blogging and social media, Jeff wants to share all of what Philadelphia has to offer, so he created MyPhillyAlive.com. At MyPhillyAlive, we want to share the excitement that the City of Philadelphia resonates. Sharing the passion within, from the people of Philadelphia. At MyPhillyAlive, we'll be talking about Philadelphia restaurants, fun bars, the city night life, the history of Philadelphia, Philly attractions & events, the arts, sports, and much more. We want people to add their experiences regarding Philadelphia, even if they are from out of town, which can be done on our Facebook fan page as well. www.facebook.com/MyPhillyAlive At the end of the day, we want to be different from the many Philadelphia sites. We want our site to be easy to navigate, while at the same time, we want you to not only find the hot spots, the best things to do in Philadelphia; but those hidden gems within the city. Thanks...
More Posts - Website - Twitter - Facebook - LinkedIn