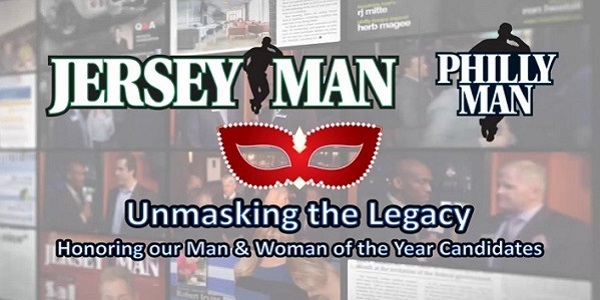 'Philly's Greatest Masquerade Celebration Honors Local Heroes and Gives Back'
JerseyMan and PhillyMan Magazine host their 3rd annual Unmasking the Legacy Gala, November 2 from 6 pm to 10 pm, to celebrate its man and woman of the year honorees at Ballroom at the Ben.
This masquerade-themed celebration will bring together 10 men and women who have had profound impacts on their community. A portion of each ticket sold will benefit the charity or non-profit chosen by the two honorees with the most ticket sales.
Notable honorees include, Rose Marie Beauchemin supporting The Kidney Project, Mary Ann Broccolini for Kawempe Home Care, Bill Brandt supporting Leukemia and Lymphoma Society of New Jersey, Peter Cordua for Joseph Lacroce Foundation, Len Dolce for SpArc Philadelphia, Dennis Flanagan for Virtua Foundation, Sheila Hess supporting The Children's Charity, Brandon Kamin for the Jewish Relief Agency, Yasmine Mustafa for Coded by: Kids, and Emily Tepe supporting Musicians on Call.
"JerseyMan and PhillyMan remain committed to shining our light on business leaders in the Delaware Valley who not only excel professionally, but also philanthropically. Unmasking the Legacy is a way for us to reveal the hard work and dedication of these 10 leaders. And what better way to do that but to bring together diverse groups of likeminded professionals and celebrate together?! We hope you will join us," said Ashley Dunek, Special Events Coordinator at JerseyMan and PhillyMan Magazine.
This event is open to the public, but space is limited! They will have masks available for $5 – all proceeds donated to the winning honorees' charity. Also, best mask will win a special grand prize selected by PhillyChitChat's HughE Dillon.
Partygoers can enjoy food stations and 4-hour top-shelf open bar as well as dancing and live entertainment. Celebrations will continue with special guest, Meisha Johnson of CBS Philly who will be rocking the mic.
About JerseyMan/PhillyMan Magazine:
JerseyMan/PhillyMan Magazine is a regional magazine with well-written and researched content targeting male heads of households in the New Jersey and greater Philadelphia areas. The content includes the type of articles you might expect (sports, politics, wine, fine dining, and entertainment) and they're always on the lookout for content that you can't get anywhere else.
Unmasking The Legacy 2017
Location
Ballroom At The Ben
834 Chestnut St
Philadelphia, PA 19107
Date
November 2, 2017
Time
6:00 pm – 10:00 pm
Cost
VIP $200 (Sold Out)  | General Admission $150  |  Get Tickets
Web Site
Jeff Belonger has been in the mortgage industry for 19+ years and now wants to do something different. With his experience of blogging and social media, Jeff wants to share all of what Philadelphia has to offer, so he created MyPhillyAlive.com. At MyPhillyAlive, we want to share the excitement that the City of Philadelphia resonates. Sharing the passion within, from the people of Philadelphia. At MyPhillyAlive, we'll be talking about Philadelphia restaurants, fun bars, the city night life, the history of Philadelphia, Philly attractions & events, the arts, sports, and much more. We want people to add their experiences regarding Philadelphia, even if they are from out of town, which can be done on our Facebook fan page as well. www.facebook.com/MyPhillyAlive At the end of the day, we want to be different from the many Philadelphia sites. We want our site to be easy to navigate, while at the same time, we want you to not only find the hot spots, the best things to do in Philadelphia; but those hidden gems within the city. Thanks...
More Posts - Website - Twitter - Facebook - LinkedIn